Mr. "Ab" Had a Dream to Overcome MS, And He Did It!
Was It Difficult For The Student "Ab" To Overcome Multiple Sclerosis?
I thought there was no relief for MS; I thought I will be crippled at some point in my life, said Mr. "Ab."
Everybody knows the importance of the brain in managing everything in the body. Unfortunately, MS attacks tissues in the brain and spinal cord. It affects all ages; but, today's heartwarming story is about a hard-working student from Poland who was fated to become diseased. He presented the typical MS symptoms, and he wanted relief.
On Sep 17, 2020, he contacted us amazed about the success stories achieved with the Wellness Package for Multiple Sclerosis, so he wanted to know more and more. "Ab" had a dream to overcome MS.
Hekma Center was and still is there to help him with all his needs.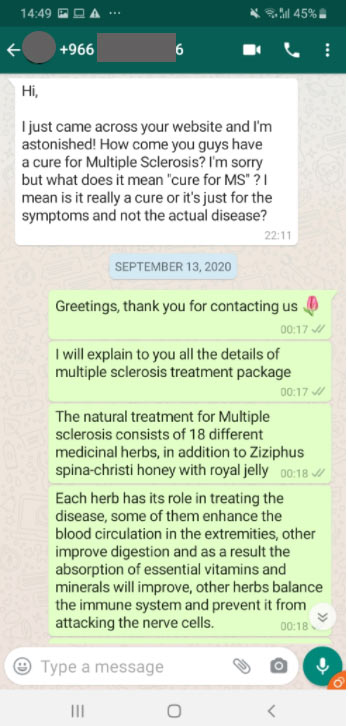 Our patient had some queries about his favorite foods. Dr. Miriam replied that the most important thing is to avoid the ingredients and foods listed in the "To avoid List" provided with the Wellness plan.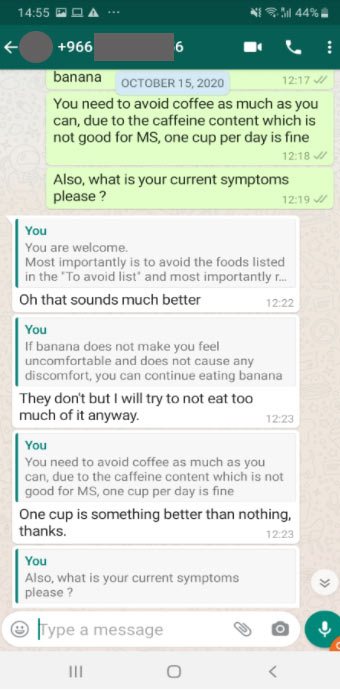 Mr. "Ab" had some vision impairments, which were inconvenient, especially that he is a student. Furthermore, he had a tingling sensation and pain. It was not easy to face this situation.
Dr. Miriam calmed him and said he will get better and everything will improve gradually.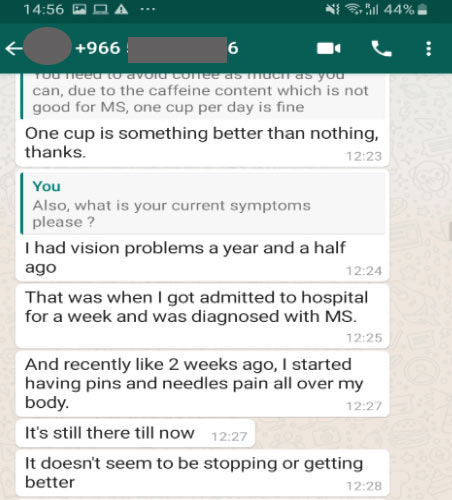 Mr. "Ab" made a purchase, and his journey started.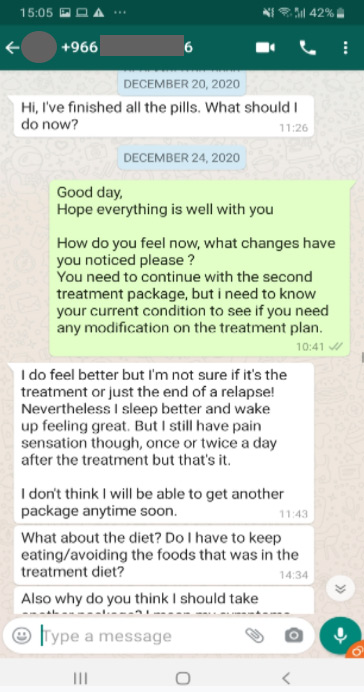 On Dec 12, 2020, Dr. Miriam told him that he needs to continue with the second Wellness package, this is because 100 days is the minimum time required to remyelinate the affected axons (Nerves).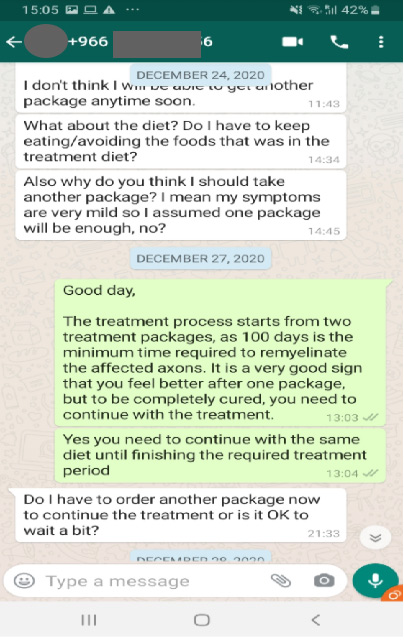 Mr. "Ab" is a university student, and it is not easy for him to afford the package's cost. Therefore, we offered him a discount coupon. Our priority at Hekma Center is our client's health and satisfaction.
In January, he informed us that he had horrible back pain, and he wasn't sure what was the exact cause. Dr. Miriam advised him to do stretching exercises even while sitting and studying.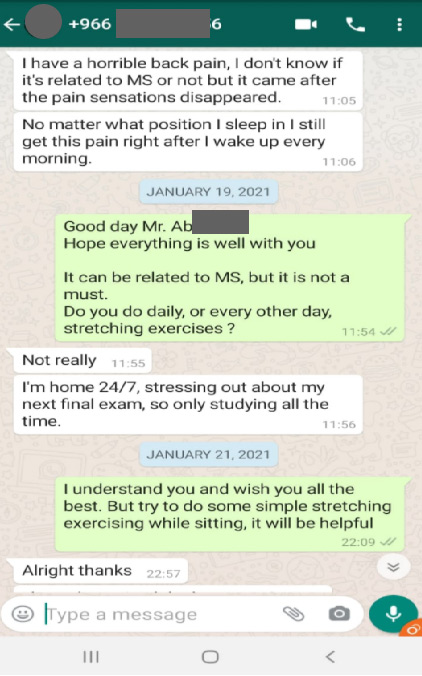 Mr. "Ab": "I've finished all the pills, what now? I don't feel anything now, all is gone. But I believe it's just a relapse."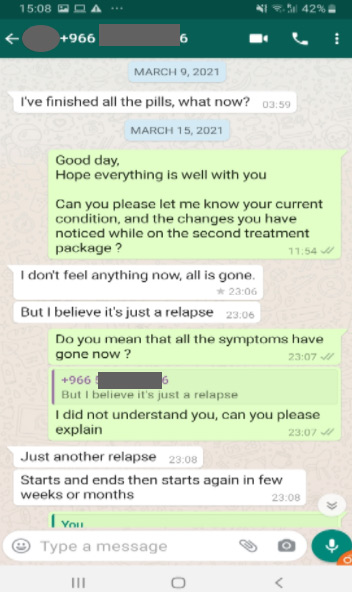 Dr. Miriam knew that improvement is not due to the end of a relapse, and she wanted to make sure that he got better, so she asked him to do an MRI.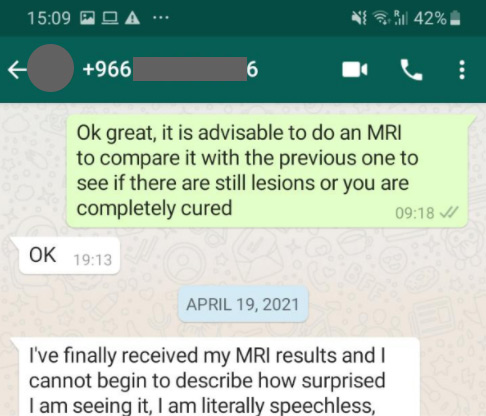 Finally, The Journey is Almost Over
He said: "I've finally received my MRI results and I cannot begin to describe how surprised I am seeing it. I am literally speechless, the results are very clean according to my neurologist, almost all of my many lesions are gone (remnants only left). My neurologist told me that I must have been taking steroids to get such results.
So no new or active lesions are left. 
To be honest, I had no hope whatsoever in the treatment before I saw the results myself but I was wrong.
Thank you for the amazing work you guys do and for helping us have a better life with the somehow super organic treatments you provide.
I thought there was no cure for MS, I thought I will be crippled at some point in my life but now I have so much hope for my future thanks to you guys.
Thank you so much."
Mr. "Ab" said: "I've already suggested the center to so many of my friends and they for sure will be trying it soon after they've heard about my results."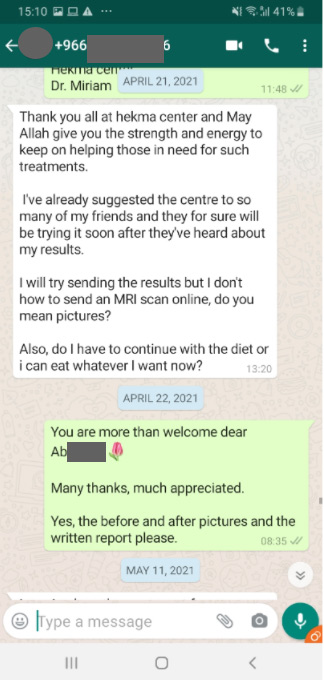 In the end, he wanted to make sure that he got better and overcame MS. So Dr. Miriam read his MRI and told him that according to the scan results, most of the lesions present before starting with the Wellness package have disappeared and the remaining lesions are very few and much smaller in size.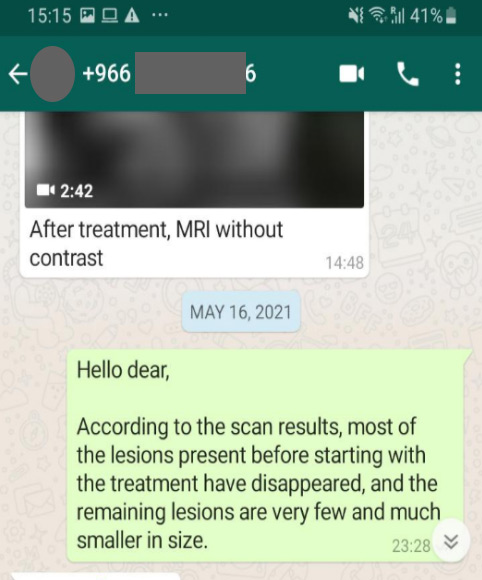 Dear "Ab," good luck with your career, we hope you find strength with each new day.
We appreciate your hard work and faith in our products.
Congratulations!
Note:
The featured image is for illustrative purposes only.