Why Did An American Lady Describe The MS Wellness Package As A Miracle?
"I just want to say how happy we are with the treatment and we want to say Thank you very much this treatment is a miracle from God.", said Ms. "Io" mother.
On May,5,2021, a beautiful lady sent us an email, informing us that her 31-year-old daughter has Multiple Sclerosis (MS), and that she is very interested in Hekma Center's natural supplements.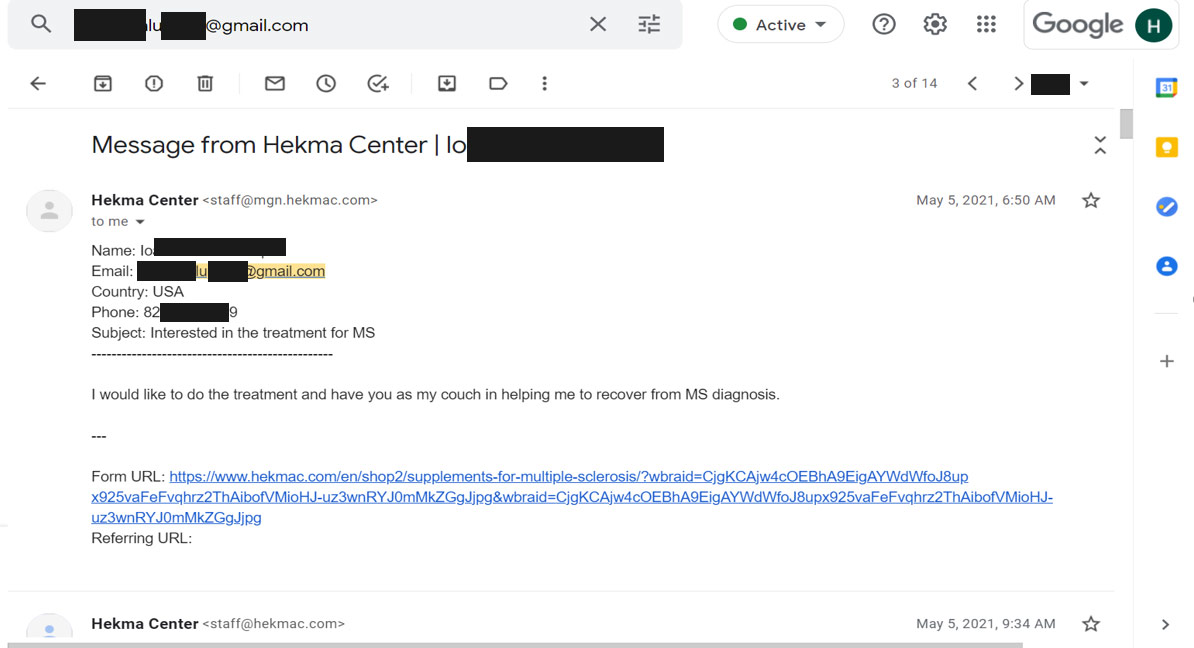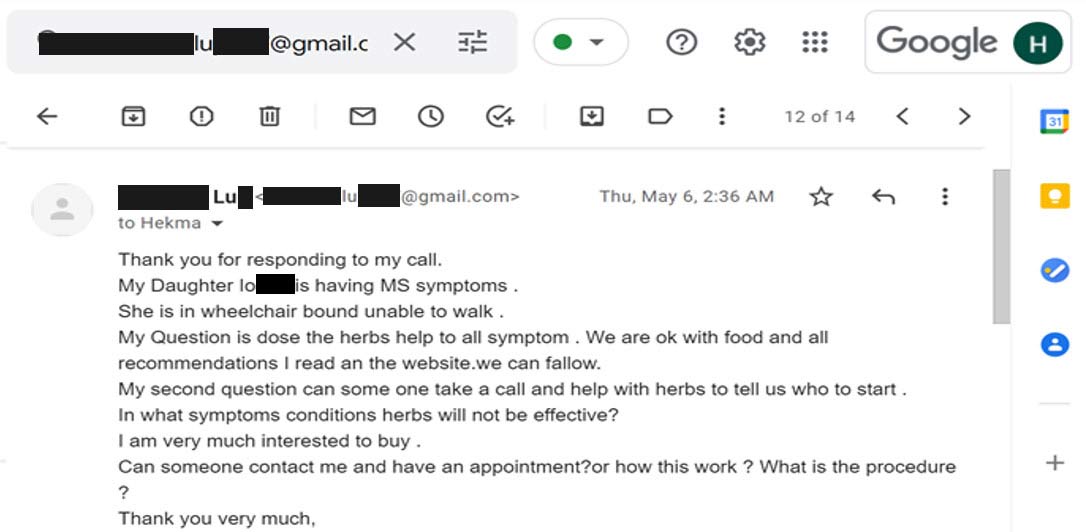 Dr. Miriam replied and provided her all the details about the Multiple Sclerosis supplement package.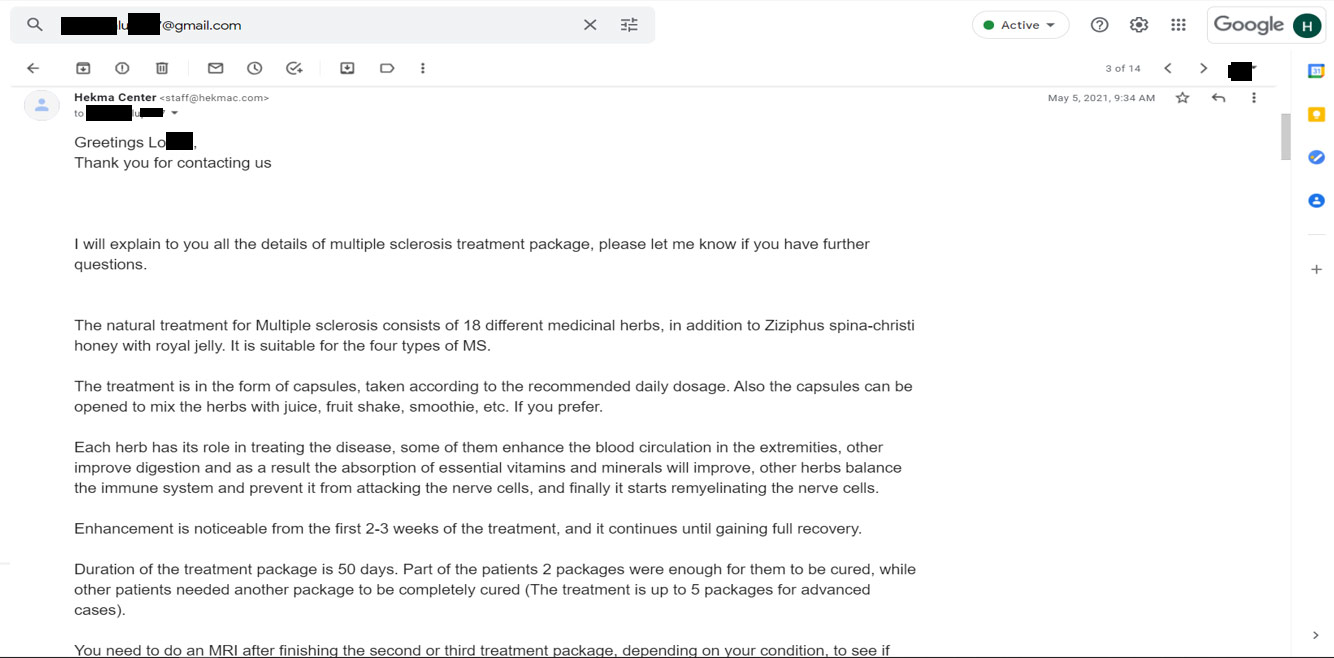 Her Story and History
"At the beginning we did not know what was going on because all started with lower back pain lumber area and then other symptoms came up finally the MRI showed spots on her brain doctor told us she got acute MS. We been in shock, first neurologist offered us medicine we gave her some IV but, we stop was bad and after that she never took any meds not even pain pills. Her body was extremely inflamed we did not much about this diagnose and the agony that just was about to unfold and we had to go."
Queries About The MS Wellness Package
The following are queries of the mother: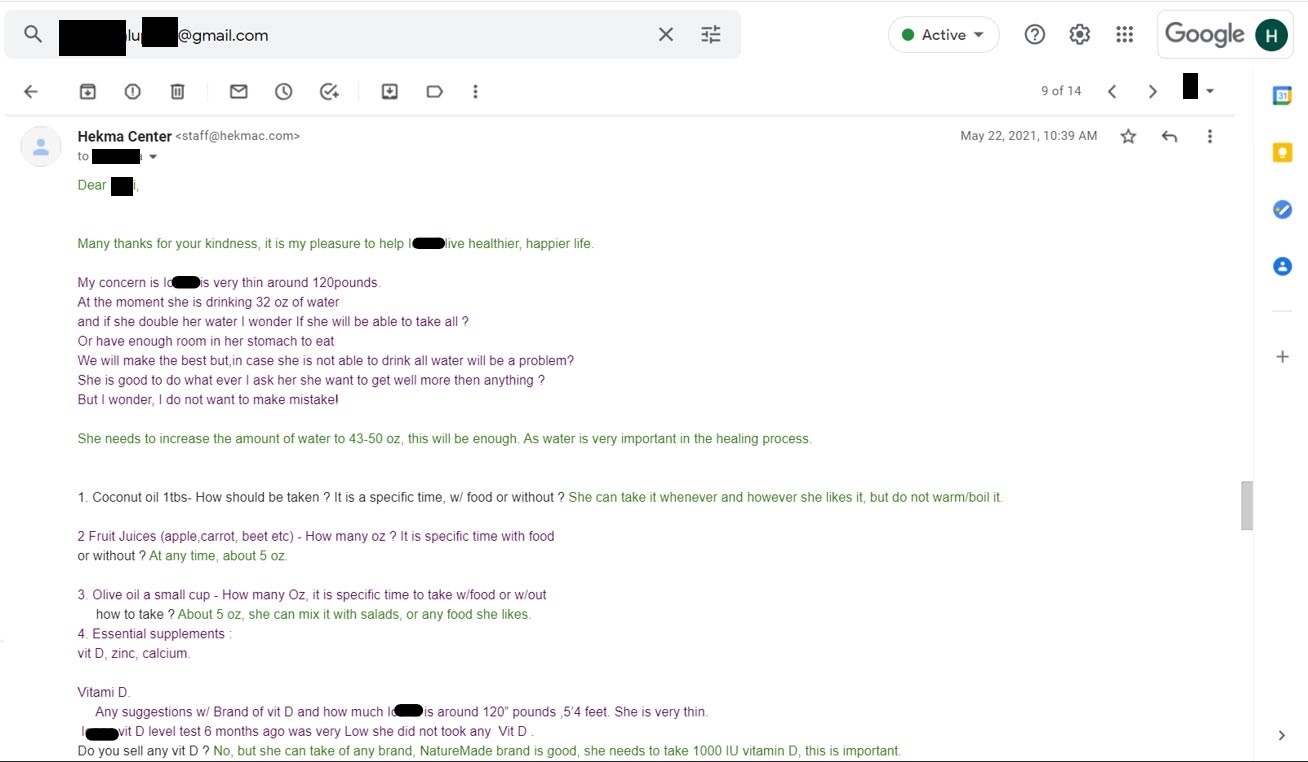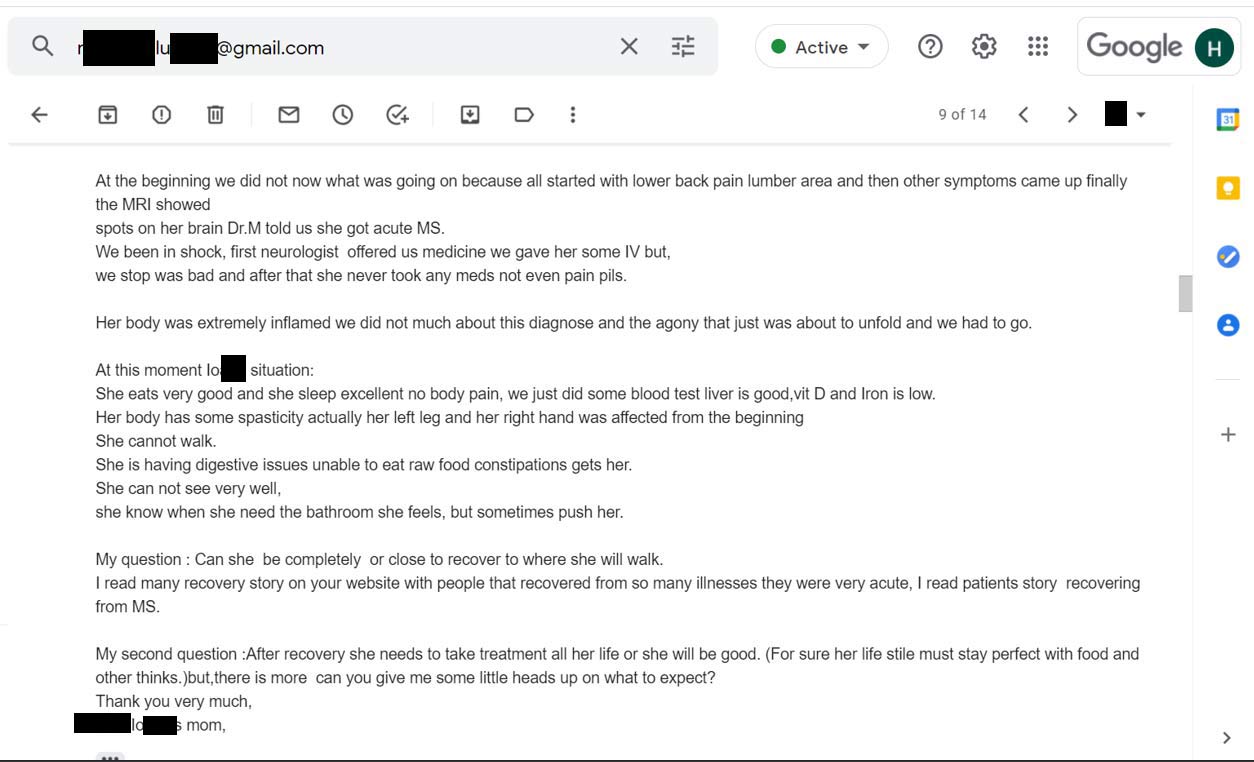 "After finishing the required treatment period and being cured, no need to continue with the complete treatment package, but it is recommended for every person, regardless if he/she has any disease or he/she is healthy, to take multivitamins and beneficial herbs as Moringa, MSM, and few others. Also it is advisable to keep following healthy lifestyle as you stated.", said Dr. Miriam.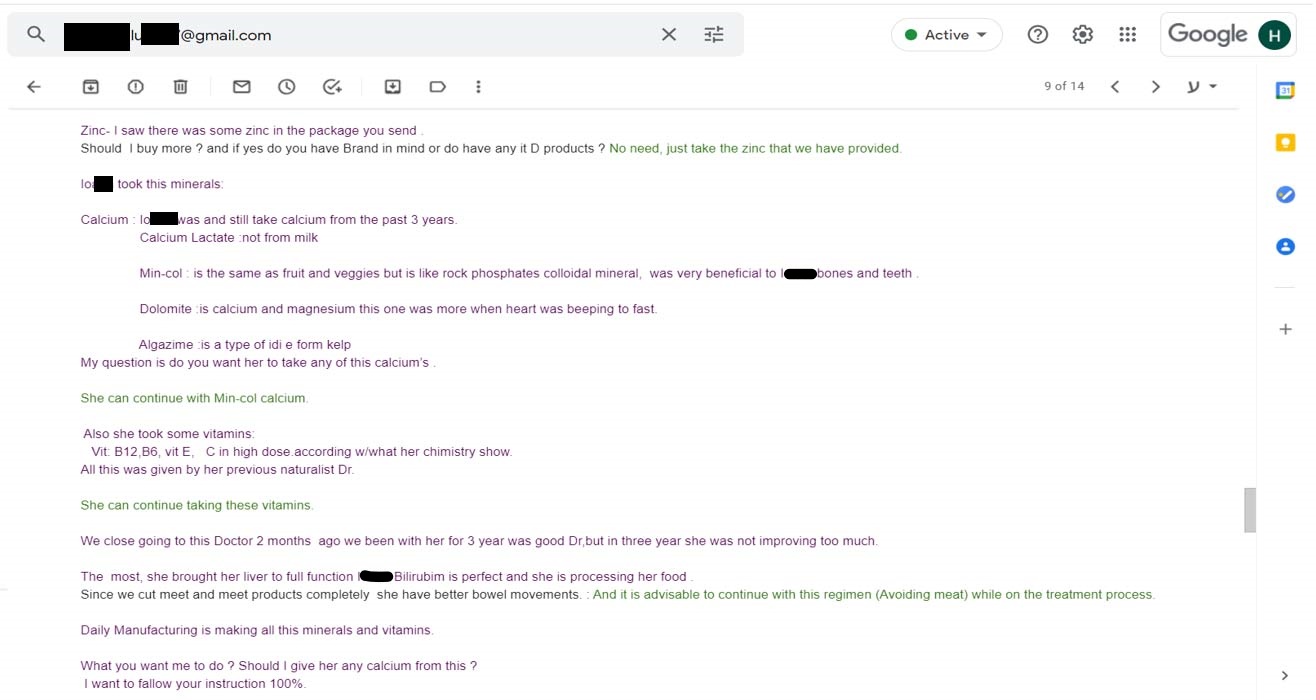 Sweet Words
"Thank you very much for helping and guiding us through this, is a very intense program we are keeping the schedule and take all as you advise us. Yes, "Io" always was kind and good with family and friends and yes, we have faith God will restore her through you, your wisdom and knowledge God Gave You to help other.
Thank you, we appreciate you and all your help."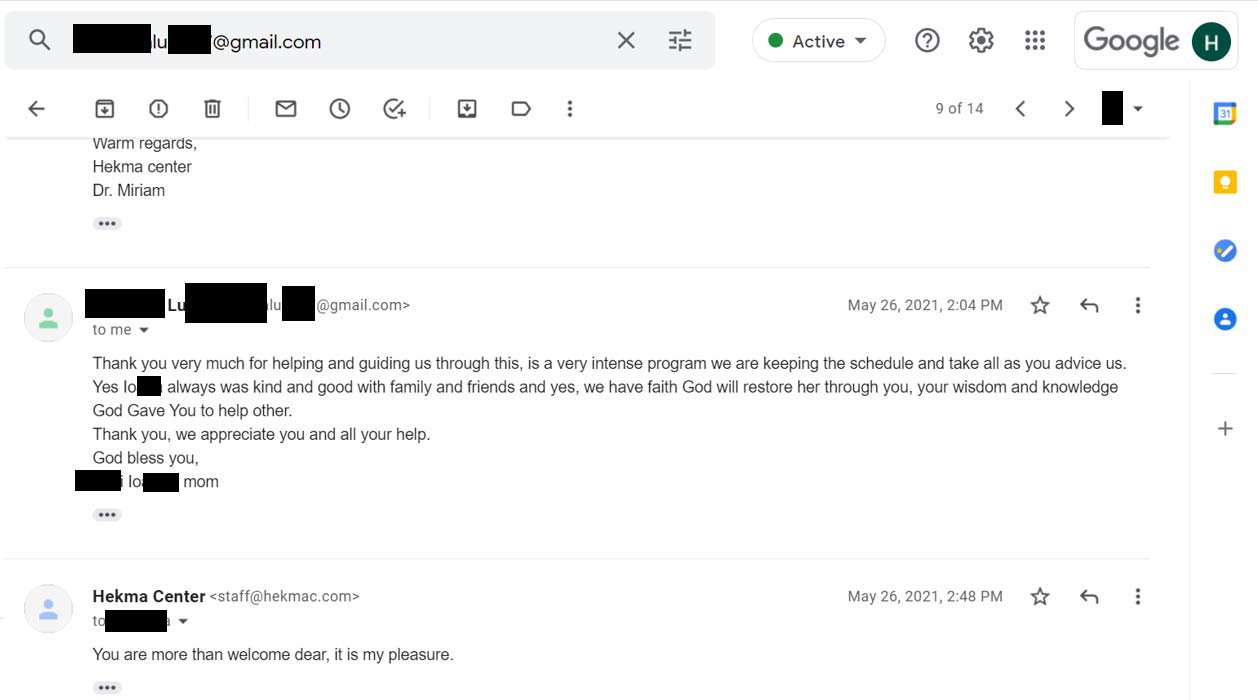 Was She Ready For Her Life To Change?
On May /22/2021, Ms. "Io" started the MS Wellness package, and they were thankful for our guidance.
They followed the Wellness Program and looked forward to seeing Ms. "Io" get better and better.
Updates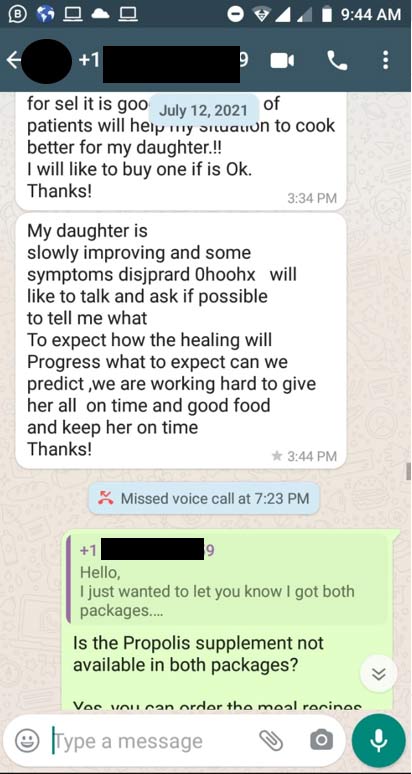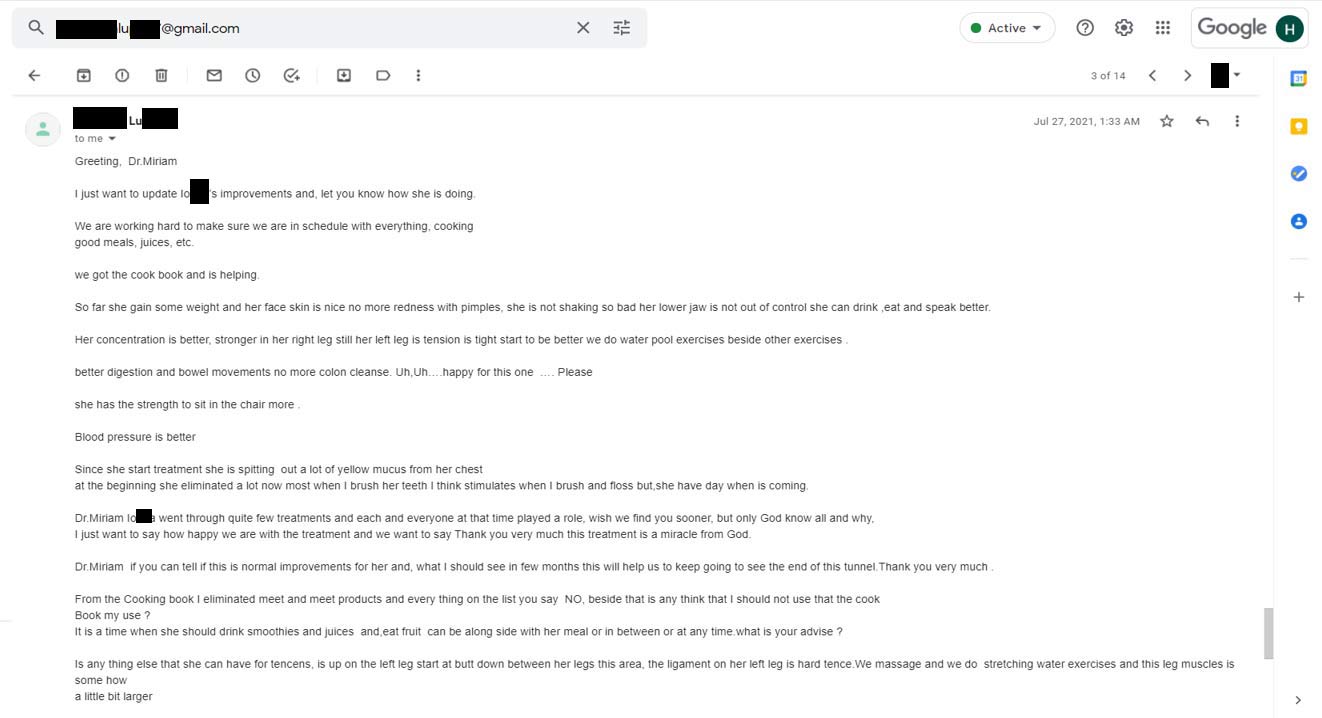 "We are working hard to make sure we are in schedule with everything, cooking good meals, juices, etc. we got the cook book and is helping. So far she gain some weight and her face skin is nice no more redness with pimples. She is not shaking so bad her lower jaw is not out of control she can drink ,eat and speak better. Her concentration is better, stronger in her right leg still her left leg is tension is tight start to be better we do water pool exercises beside other exercises. better digestion and bowel movements no more colon cleanse. Uh,Uh….happy for this one  …. Please she has the strength to sit in the chair more. Blood pressure is better.", her parent said.
Hekma Center Replied with the following:
"Congratulations ! We are wishing you good health, better days are coming gradually, and your vision will enhance as well as your walking, you really inspire us."
Congratulations my dear for these wonderful improvements. Looking forward to seeing you fully overcame Multiple Sclerosis.
Note:
The featured image is for illustrative purposes only.