Improving From Multiple Sclerosis – MS – is Possible: Ms. "Ma" Can Now Stand
Ms. Ma contacted us on October 13, 2021, via e-mail to tell us about her condition; Multiple Sclerosis (MS):
"Hello,
I was diagnosed with MS in 2006. I had numbness and tingling in my entire left arm and could not move it easily. I was given steroids for it at the time.
I have had flare ups on and off. I have put off taking any conventional medications for my condition through all these years. I have tried acupuncture and some detox as well to manage it. I am on a gluten free diet for the past 4 years.
My last flare up was this summer when I can no longer walk more than 1 mile anymore (get too tired). Intense burning sensation in legs knee down and also lower back and sides. I cannot tolerate too much heat or too much cold weather. I feel a loss of balance sometimes and need support to walk after a while. I have difficulty climbing stairs. Headaches have increased also. I had an MRI done last week which is showing increase in lesions in the brain.
My neurologist wants to put me on medication which I have been resisting so long. I have always thought I should try to cure this naturally.
I very much need help. Will be very thankful to you if you can"
Continue reading this article to know how improving from MS is possible.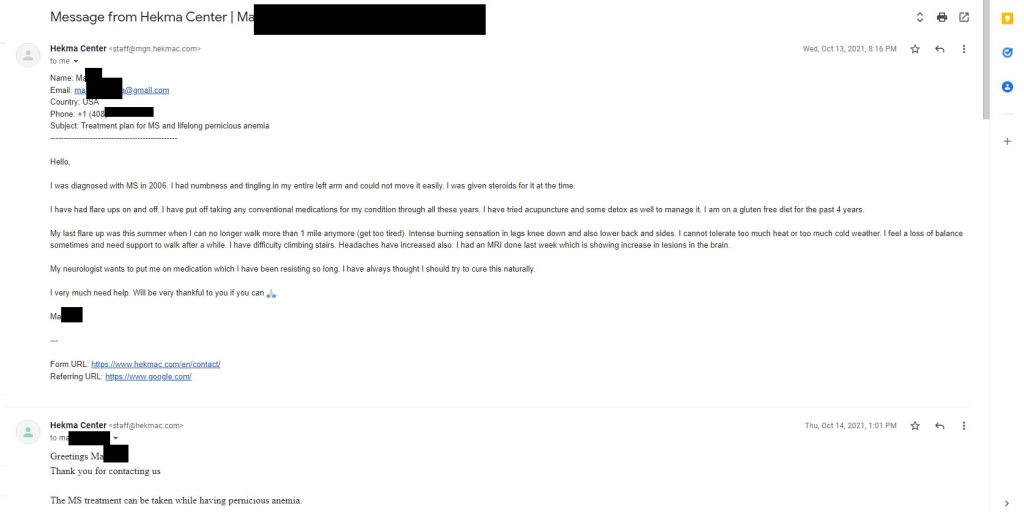 Having MS Along with Other Problems
The patient was suffering from anemia, so she wondered if the multiple sclerosis package could help get rid of anemia, in addition to constipation, urinary incontinence, dark circles under the eyes, and excessive hair loss. This is in addition to many other questions she had. Ms. Ma sent the results of her tests that showed what she had.
Our staff did not hesitate to answer her questions:
"Hello dear,
** Regarding anemia, the treatment package doesn't treat it. Nevertheless, if you want to treat it, we have a product called Magic.wb. You can have a look on it via the following link:
https://www.hekmac.com/en/shop2/barley-and-wheat-grass/
** The dosage is suitable for you regardless your weight. It doesn't have side effects.
** All the issues that you have mentioned in point 3 will be treated while taking the MS treatment. Most probably they are found due to the MS."

Signs of Improvement
The patient ordered the package after answering her questions and started taking the products immediately. On November 01, 2021, she sent an e-mail saying that there had been some changes since she started taking the products, saying:
"Dear Dr. Miriam, I have started the treatment plan last Tuesday.
These are the changes so far
– Improvement in bowel movement
– Feeling pain and current like sensations going through my legs that stops after 6 – 7 seconds. Happens maybe twice a day
– less spasticity in fingers while writing
– feel slightly nauseous for 15 – 20 minutes after bowel movement
– easier to go up and down stairs
Please do let me know if these are expected reactions from the treatment."
The response was as follows:
"** The enhancements you mentioned indicate how good you are going, especially in the first week of having the natural treatment.
** Continuing in following the instructions will lead to full recovery.
** The pain you are feeling is going to fade away gradually while taking the natural herbs.
** Regarding nausea after bowel movements, make sure to drink a lot of water during the day, especially after sodium bicarbonate."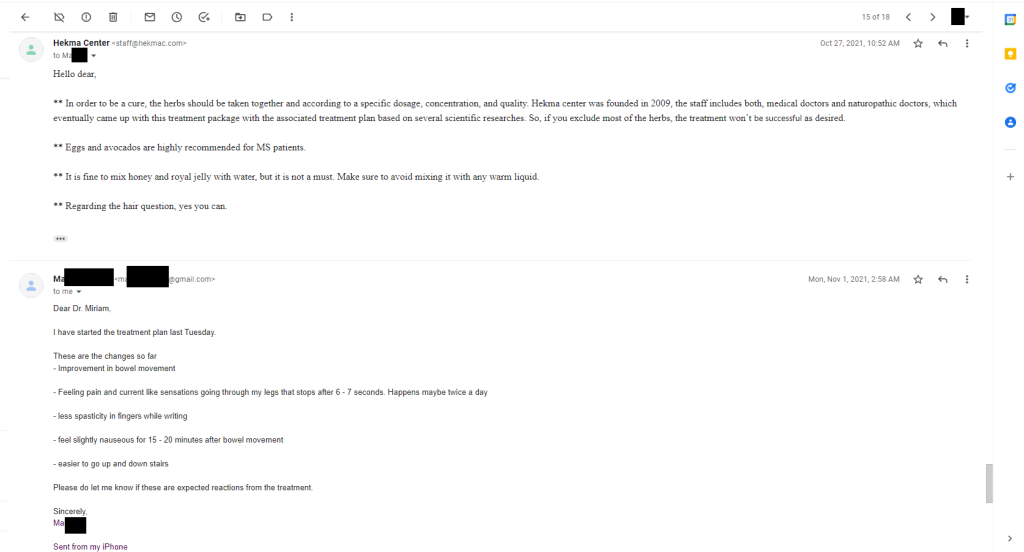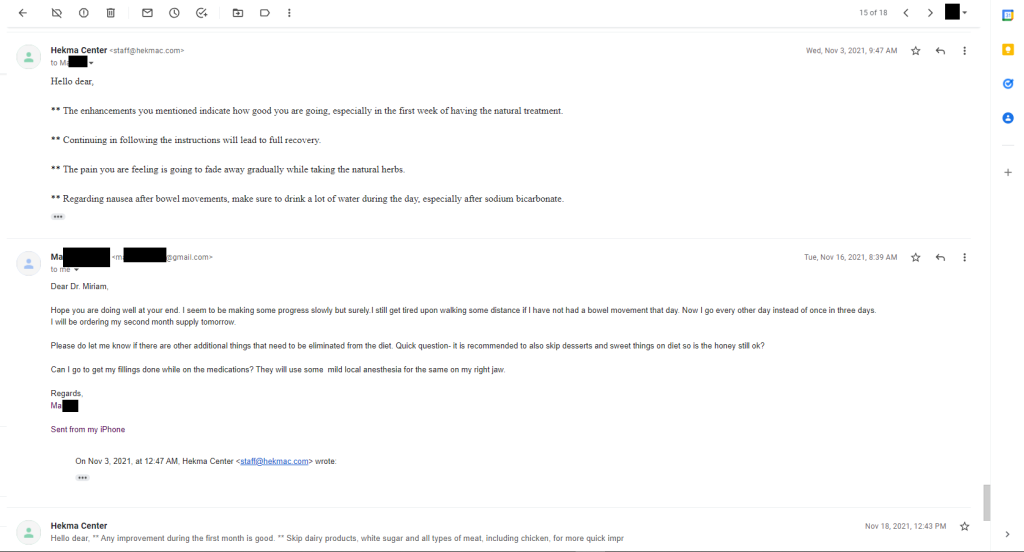 Continuing The Incredible Outcomes
On December 1, 2021, the patient sent an e-mail, saying:
"Hope you are doing well. I am continuing to see improvement. This past weekend I did an outing where I was on my feet for 1.5 hours straight and did not ask for support to keep standing even once. I was so amazed! This is happening because of your supplements and of course by God's blessings. Thank you!
I am following the diet plan regularly, eggs, fish, no gluten and no sugar. Also eliminated dairy completely. Quick question – in our last email exchange you said to reduce chicken. Why is it that eating eggs is ok but not chicken so much? Also how many eggs per week can I eat? I noticed that the supplements sent this time also contain one bottle of the Magic.wb. Is this to address my anemia? Is the wheat grass ok for me to take? it does not contain gluten?
My bowel movement has improved but my urinary incontinence is still quite bad. Will that also improve with more time on supplements?
Thank you for your support!"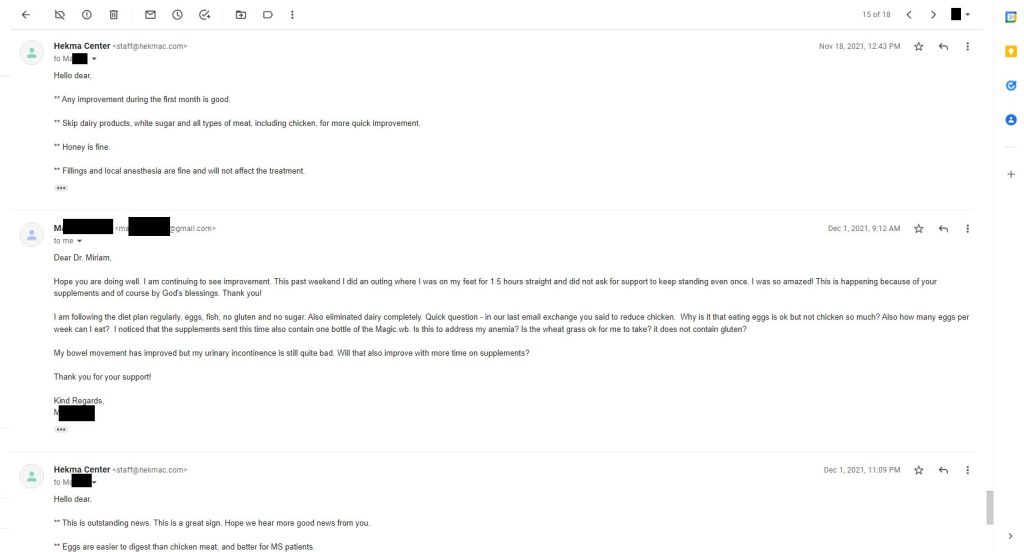 We can see that Ms. Ma was getting better from MS in a short period.
Thank you for trusting us and our products, Ms. Ma. Do not give up and continue taking the products until you get the desired results.
Note:
The featured image is for illustrative purposes only.