Ms. "Mar" Tried for So Long to Overcome HSV-1 and HSV-2! And She Found What She Was Looking for in Our Center!
Ms. "Mar" from the USA was extremely delighted when she found the herbal supplements for HSV. And that she can order and receive them within a few days. This is what she wrote in her email for Hekma Center's staff on 19.9.2020.
Dr. Miriam at Hekma Center replied to her email and enriched her with valuable information regarding the wellness supplement package for herpes.
The patient sent another message, expressing her concern about using some products, and the possibility of interference with the supplement package from Hekma Center:
"Dr. Miriam, Thank you so very much. This information you have provided is very helpful. I will be placing my order today. One last question? What are your thoughts on make-up, soaps, nail polish and other products during this treatment. Do hair, skin, and other beauty products interfere with the efficacy of your treatment plan? I may dye my hair and/or use hair spray from time to time and I also like to get acrylic nails-is this okay to continue while on your regimen-is your regimen a detox in which case I shouldn't be doing certain daily additives? Please advise, Thanks again!"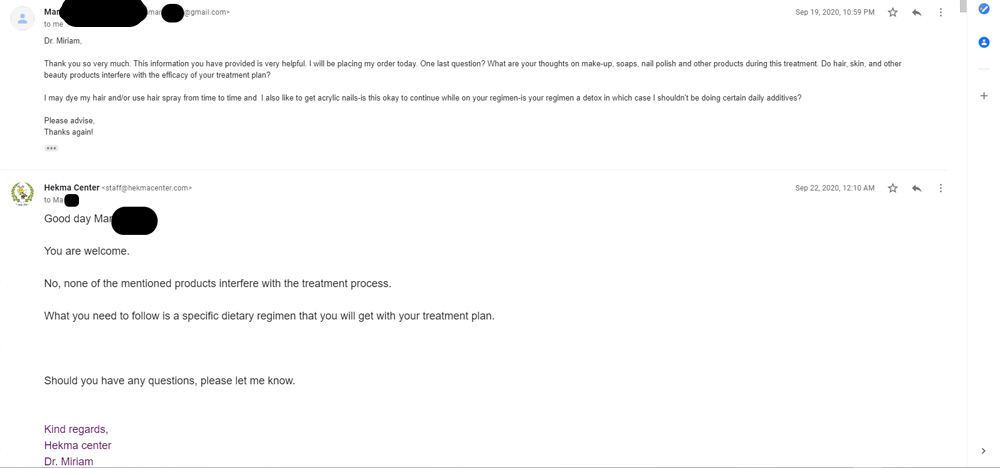 Questions and Answers..!
Dr. Miriam was delighted with the patient's interest in these details, showing her determination in committing to the necessary instructions in order to completely overcome HSV.
The doctor replied and told her that they do not affect or interfere with the wellness supplements from Hekma Center. And Ms. "Mar" was happy with this answer and asked about other things regarding the diet, which is important to overcome HSV more quickly:
"Good Day Dr. Miriam, Thank you for this information. A few more questions:
Do you recommend no salad dressings, no honey, no condiments such as salt, pepper, ketchup/mustard?
In drinking the Norz tea in a small cup-is a 3 oz cup 2 times per day enough?
I noticed Item 11 in which case it says to prepare a cream of olive oil, rhubarb, and salvia, I am not quite sure what this cream is for? I do not have any outbreaks….is this mixture intended for future outbreaks?
Should I avoid brown rice?
Should I soak in the sodium bicarbonate daily as well as the rhubarb/salvia/chamomile daily?
Can my breakfast or lunch meal be a smoothie with Kale or Spinach leaves and frozen fruit? Or must it be eaten only no smoothies?
I apologize for so many questions-I just really want to get this done right, and get it over with. Thanks again!!!"
Dr. Miriam answered the patient's questions and told her that everything she mentioned is allowed in her diet. And that she can apply and prepare the creams and soak-ins only in case of sores. They are not necessary if there were no sores.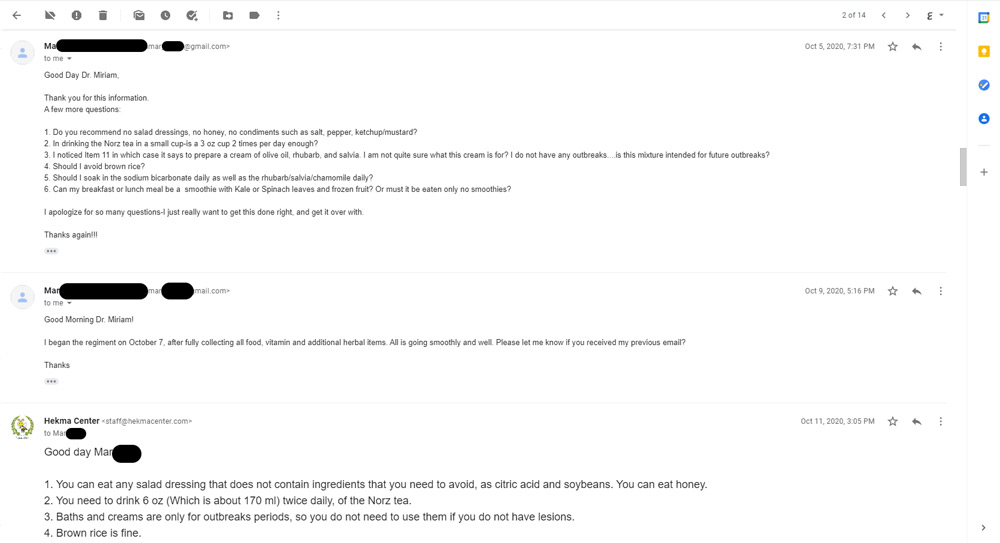 When Will Ms. "Mar" Overcome HSV ?
Ms. "Mar" sent an email to dr. Miriam, informing her that she did a blood test and the result was positive, meaning that the virus still exists in her body. But the doctor explained the importance of taking a PCR test, which is more accurate, in order to know for sure whether the virus does or does not exist in her body:
"Dear "Mar", Hope everything is well with you. What you are doing is great and you are following the instructions as it is. Because you had no outbreaks, it is advisable to do PCR test, as IgG test may take up to 6 months to show up negative (It takes up to 6 months to clear up the antibodies from the body after the virus is cured), while PCR test will be immediately negative after being cured.
Tingling sensation can be due to the effect of the virus on the nerve cells, which can take some time to be completely recovered after curing the virus, but it is not a must to take more time. The treatment process can take from one treatment package and up to three. We need to wait until receiving the test result to compare it with the previous one to see if you are cured or at least in which stage you are now."

Overcoming HSV-1 and HSV-2 Entirely!
Ms. "Mar" did not believe that she finally overcame HSV !
She sent the PCR test results to dr. Miriam, and they revealed that she completely overcame HSV-1 and HSV-2. Wherein the results show that the virus does not exist in her body ! :
"Oh my goodness!!! I am COMPLETELY in shock. Please find my results attached. As you know, I began this treatment on October 7, 2020, On November 23rd, after the 1st package, I tested positive for the Igg HSV test, On January 6, 2021, I tested positive after the second package Igg test. Today is March 5th, I have just received test results for the PCR test you have recommended, and I have tested negative, and today is the last day of the 3rd package. Is this test correct?!?!?! PCR DNA??? I have attached all 3 tests for your review; and I am on the edge of my seat awaiting a reply. I have not had any cheese, coffee, chocolate, alcohol, meat, sugar, bread, pasta, nuts…AT ALL in 5 straight months. This was such hard work. Am I free? I only have one more dose of pills left from the 3rd package…..I have never missed one dose in 149 days—including Lysine, sodium bicarbonate, and ginger/licorice tea 2 times per day, I have tried to rid myself of this virus for over 2 years, and Hekma center is my 8th herbal attempt at this. AM I FINALLY FREE OF THIS NOW? Lol!
Also, does tingling ever go away? And will I ever get a negative Igg test result? Please let me know if I have taken the correct PCR test, and thank you SO MUCH."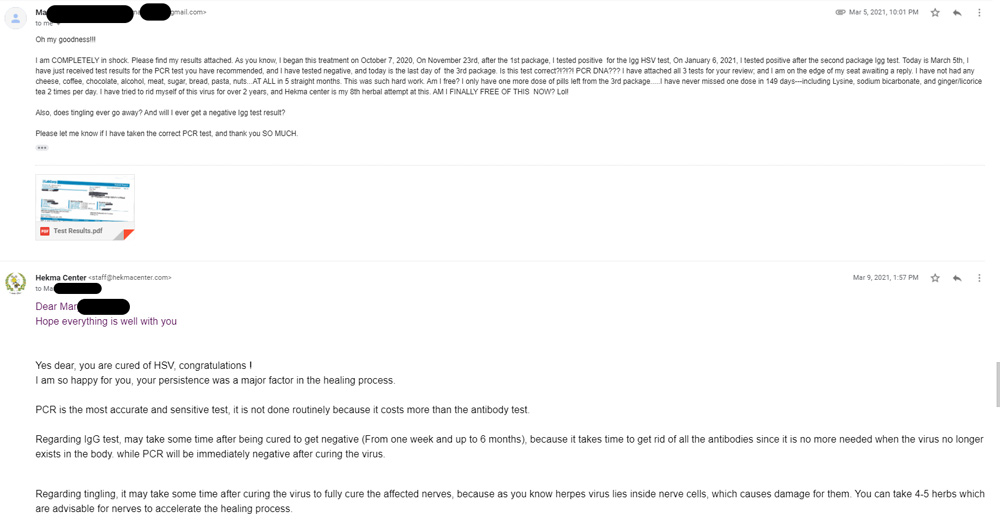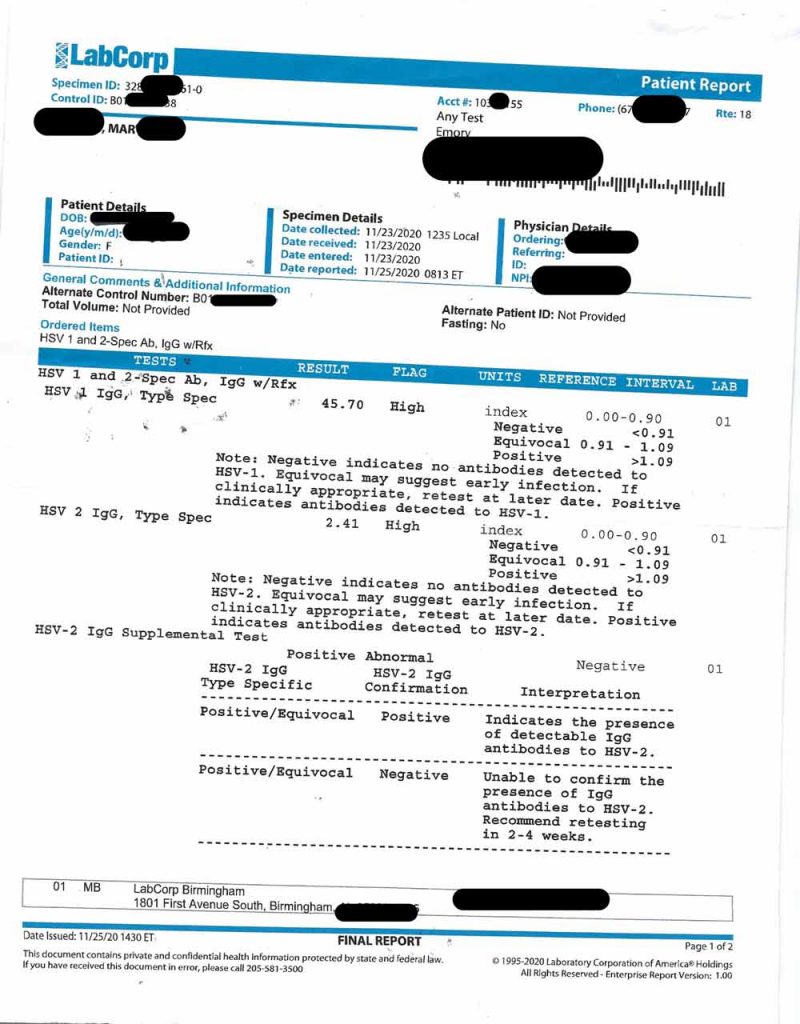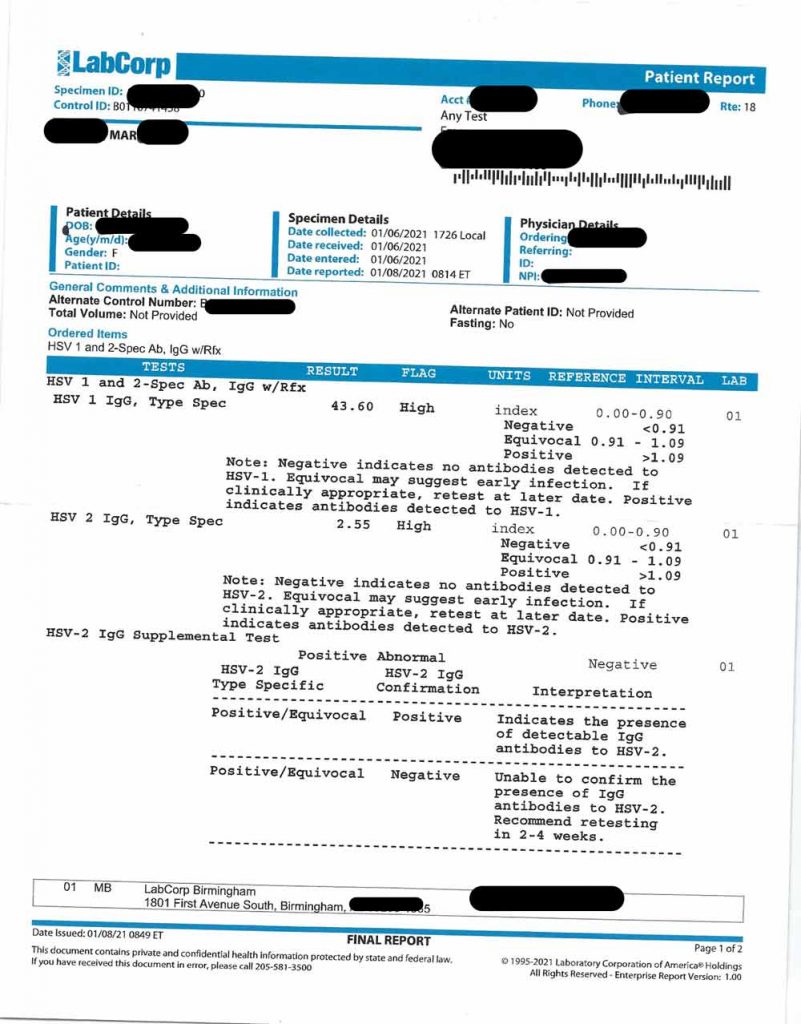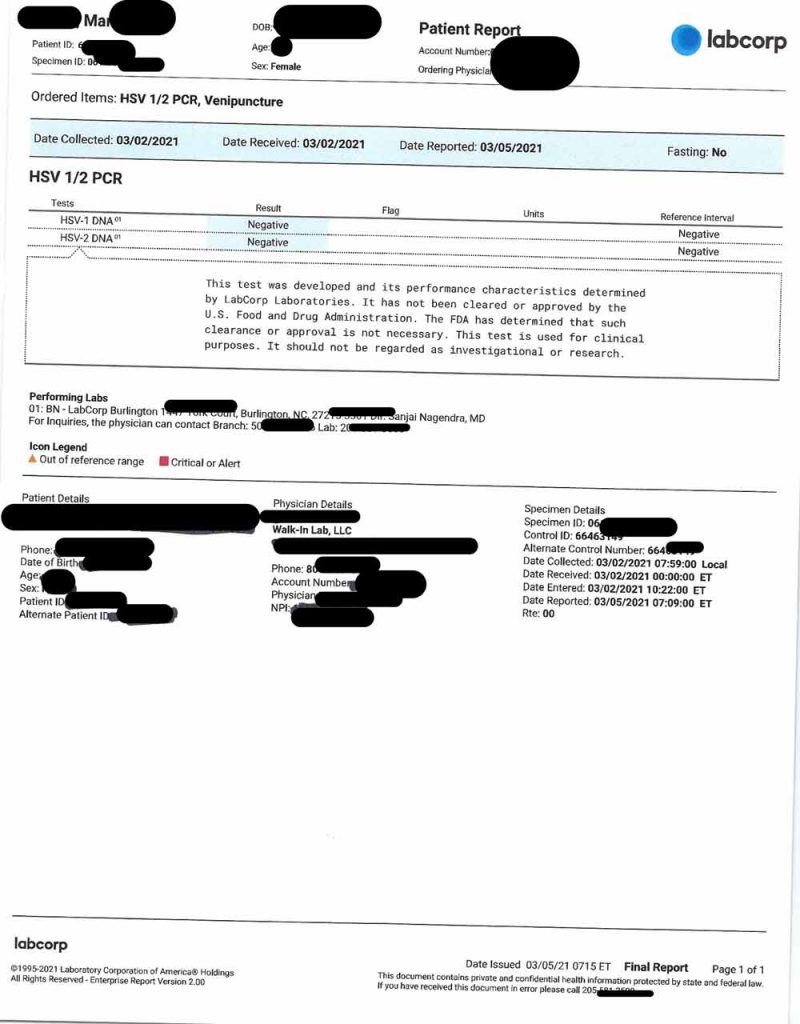 The team at Hekma Center congratulates Ms. "Mar" on overcoming HSV-1 and HSV-2 entirely.
Note:
The featured image is for illustrative purposes only.
Suggested Product