Ulcerative Colitis – The story of an Emirati woman who suffered from gastrointestinal infections
We bring to your hands an inspiring story of an Emirati patient, Um Khled, who healed from Ulcerative Colitis disease. Um Khaled had chronic stomach inflammation-gastritis, peptic ulcer, gallstones and ulcerative colitis. On December 28, 2015, Um Khaled contacted our staff at Hekma Center, and explained that she suffers from different digestive problems and asked for herbal supplements for Ulcerative colitis disease.
Here is a translation of the patient's first e-mail: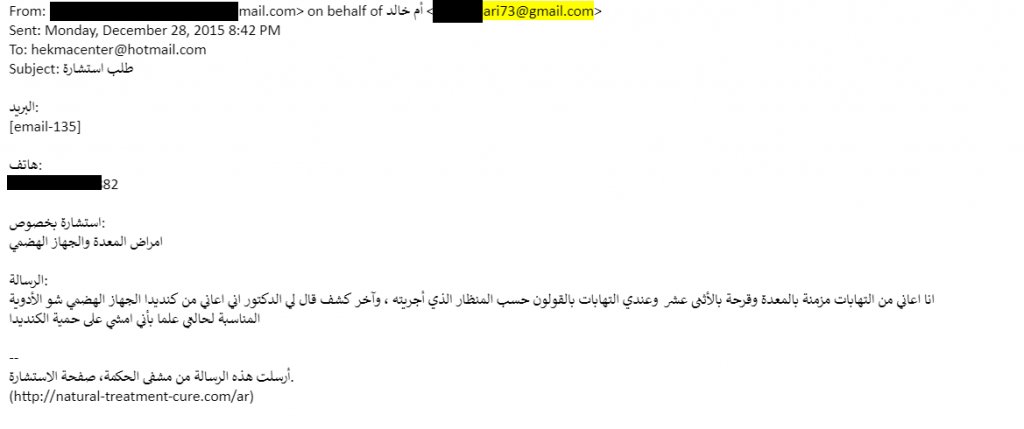 "According to the gastro test I did, I was diagnosed with the following: chronic stomach inflammation, peptic ulcer, gallstones and colitis. My doctor recently informed me that I also have Candida. What supplement package is suitable for my case, knowing that I follow an indicated diet for Candida."
On December 29, 2015, the next day, our crew at Hekma Center responded to Umm Khaled's message. They asked for detailed information about the symptoms that she feels in order to determine what supplements would be effective in her case. The patient answered our message with more helpful details as follows:
"Greetings,
Because of my UC disease, I often have mucus in stool and at times, the mucus is accompanied with gases. My stool is dark almost black in color but it is not bloody. I also suffer from gallstones. Would you please tell me what supplements should I purchase from your website?
Thanks."

Diagnosis of the Disease:
When Prof. Younis looked at the patient's medical reports. He found out that Umm Khaled does not have colitis as her doctor had told her, but rather ulcerative colitis disease. Therefore, he suggested that Um Khaled should take the supplement package for ulcerative colitis in addition to some other herbal products that can reduce inflammations and gallstones.
After Hekma staff answered all her queries, Um Khaled ordered her first supplement package on January 4, 2016.
3 months later, on February 11, 2016 she contacted us again via e-mail to inform us good news. She said that not only there has been a noticeable improvement in her condition but  She feels that she has actually recovered. Her suffering with ulcerative colitis disease has finally ended.
Here is a translation of her message:
"Greetings,
Recently, I have finished the last course of the supplements for Ulcerative Colitis, stomach inflammations and gallstones. Thank God for healing me and for granting me health and relief of the former symptoms. I would really like to thank you and wish you more success."

Note:
The featured image of this page is for illustrative purposes only.
Note:
Results may vary from person to person.