Dr. Osama's Struggle with Lack of Fertility due to Low Sperm Count and Motility
We bring to you, Dr. Osama's story of recovery from Infertility after years of struggle to become a father. He took only one supplement package for infertility from Hekma Center and within a month, his wife got pregnant.
Dr. Osama writes to us "I have been married for 3 years. The first year passed by without my wife getting pregnant. We both got frustrated, so I decided to take things more seriously and took hormone injections and Nolvadex for six months as my doctor prescribed. However, nothing changed and we still could not conceive.
I then took zinc and l- carnitine supplements for three months, but the improvement was too minor to make a difference and get us pregnant. Honestly, I then let it go thinking it is my destiny to be deprived of fatherhood.
The Rest of Dr. Osama's Message
"I used to pray to God to grant me a child that I long waiting for. One day, I decided to search google, and I came across Hekma Center website.
I contacted them immediately. I corresponded with them for a couple of days until I ascertained their honesty, then I order the supplement package.
Only one month passed by and my lab tests showed great improvement in sperm count and motility. Motility, even beyond normal. As for the sperm count, the professionals at Hekma Center decided that I should take another supplement package. I swear that I barley started with my second course of supplements and my wife got pregnant with twins.
I sincerely thank them with all my heart for their dedicated work to help others."
Below, is a screenshot of Dr. Osama's correspondence with us via Whatsapp:
Significant Results During the First Month of Adherence to the Supplement Program for Infertility
This was Dr. Osama's story in short. He first contacted us on June 2019 and sent his medical reports and sperm test. A month after he took our organic supplements, there was great improvement in sperm count and motility, and it was safe to say that his struggle with infertility eas finally over.
Info:
Our supplement package for infertility consists of different herbal supplements including: Maca root (
Maca product
), Saw palmetto (
Dkn product
), and Tribulus terrestris (
Super.m product
)
Below, is a copy of the medical documents prior to our program:
Below, is Dr. Osama's message requesting to buy our supplement package for infertility: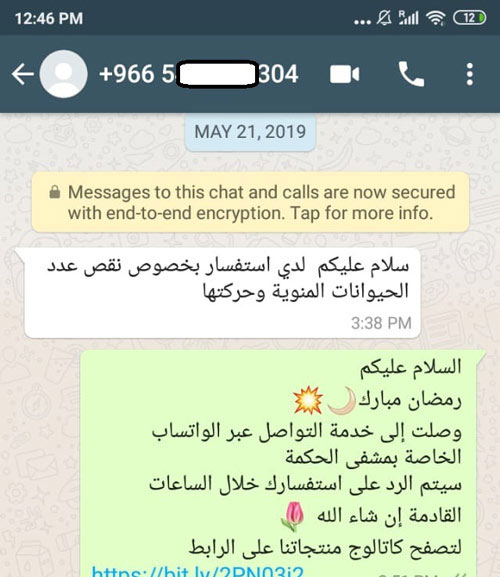 Below, is a screenshot Dr. Osama's message with great news of his wife's pregnancy:
This message shows Dr. Osama's indescribable joy when knowing that his wife is pregnant with twins:
Note:
Dr. Osma contacted us from two different numbers.
Note:
The featured image of this page is for illustrative purposes only.
Note:
Results may vary from person to person.