Nuha's Story of Recovery from Breast Cancer
We bring to your hands the story of a Saudi patient, Mrs. Nuha – 48 years old, who eventually healed after a long battle with metastatic breast cancer spread to the bones. Nuha recovered by using Hekma Center supplements package for breast cancer.
On September 1, 2018, Nuha's daughter contacted our staffing team, and explained her mother's health condition and asked for a suitable treatment. In her letter, Nuha's daughter explained that her mother has been recently diagnosed with metastatic breast cancer and that she has not taken chemotherapy yet, even though her doctor suggest that she should. Nuha's doctor told her that she has to start chemotherapy to make the tumor would shrink so they could remove it with surgery.
Attached below is the first E-mail from Nuha's daughter: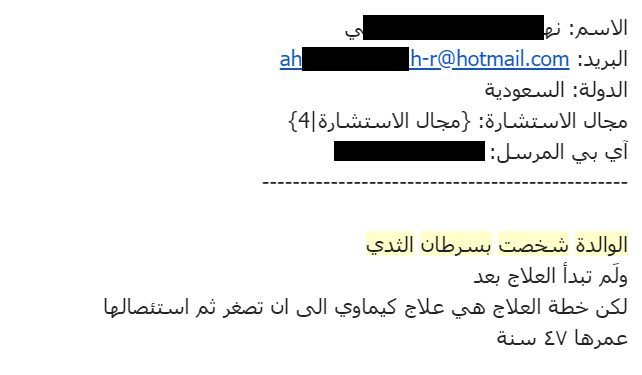 Follow up with Nuha
After her first email, Nuha's daughter sent all the required medical reports of her mother to our staff at Hekma center who in return, passed them through to Professor Hani Younis to see if there is anything we can do to help her mother. Prof. Hani Younis finally decided upon the suitable supplements, based on the given medical reports that described the patient's condition.
Few days later on the same month, the patient purchased her first course of supplements and started taking them immediately as soon as she received them.
During the wellness program, our staff at Hekma Center kept contact with Nuha and answered all of her questions about the usage of the supplements. We also offered her a detailed description of the healthy diet regime she must adhere to during this period.
Note:
It is worth mentioning that the patient has taken our organic supplements in conjunction with chemotherapy sessions, even though we did not recommend chemo for her. Our supplements helped reduce the pain and side effects of chemotherapy. Moreover, the natural supplements helpd sustain strong immunity for the patient.
Nuha's Recovery from Metastatic Breast Cancer
On April 15, 2019, 7 months after taking our organic supplements, Nuha's daughter sent us a message to inform us of her mother's recovery from cancer. In her message, the daughter says that her mother underwent lumpectomy and removed part of the breast. And also that the medical reports stated that her mother's body is clear of tumors."
Attached below is a screenshot of the daughter's E-mail:

Our crew, in Hekma Center cheered to the wonderful news; we suggested that Nuha should continue with dilluted dosage of the supplements to make sure the breast tumor does not comes back.

Attached below, is a copy of the final documents that show Nuha's full recovery from breast cancer
Note:
the featured image of this page is for illustrative purposes only.
Note:
Results may vary from person to person.