Fatima from Saudi Arabia recovered from Hypothyroidism Using Hekma Center Herbal Supplements
Hypothyroidism or low thyroid has become very common these days especially in women. Often times, low thyroid causes weight gain and makes it difficult to lose weight. Moreover, when it comes to conventional medicine, there is no recovery from hypothyroidism.
We bring to you the story of Fatima, 33 years old from Saudi Arabia and her recovery from this disturbing disorder after using our herbal supplements.
Fatima contacted us for the first time on May 26, 2019 inquiring for a wellness package for hypothyroidism. In her message, she mentioned that her TSH index is 6.39.
Below is a screenshot of her first email: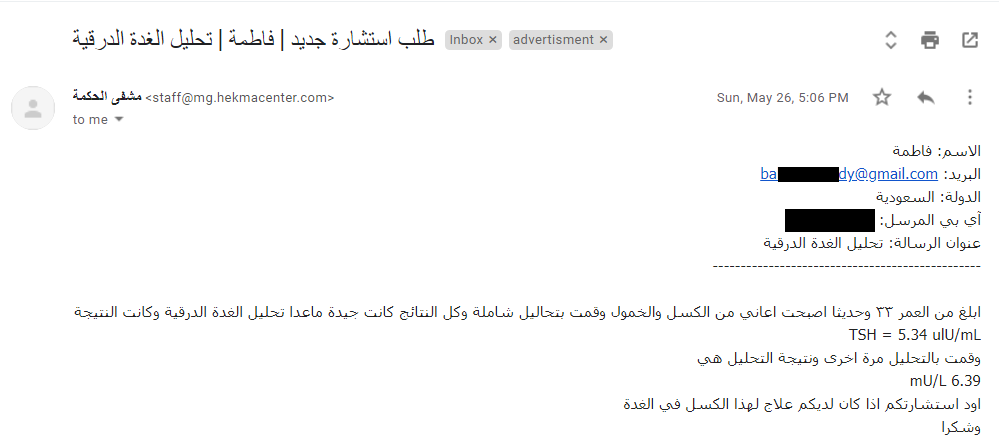 Follow up with Fatima during Her Wellness Program with Hekma Center
On May 28, 2019, we shipped the supplement package for hypothyroidism to Fatima in Saudi Arabia. Hence, she received the package on June 6, 2019 and started with it immediately.
Our staffing team at Hekma Center contacted Fatima in order to gave her guidelines on how to take the supplements and adhere to the given instructions and diet regime that comes with it.
They also explained to her the importance of abiding by the guidelines and instructions in order to achieve full recovery.
Note:
The supplement package for use and does not have adverse effects like Thyroxine.
Recovery from Hypothyroidism
On July 4, 2019, our staff contacted Fatima to check on her and see how it is going with the program. We were glad to find out that she already feels great improvement in her condition as TSH index was back to normal and showed 3.0 mU/l.
Fatima was very happy with the results as they indicate her recovery from hypothyroidism, especially since she did not use any chemical medications and took only the natural supplements from our Center.
Our Staff advised her to continue with a wellness package for hypothyroidism to ensure full recovery. They also reminded her that an ounce of perseverance is worth a pound of success.
It is very important to balance the functioning of various body organs; as well as strengthen the immune system and recurrence of the disease.
See attached photos below: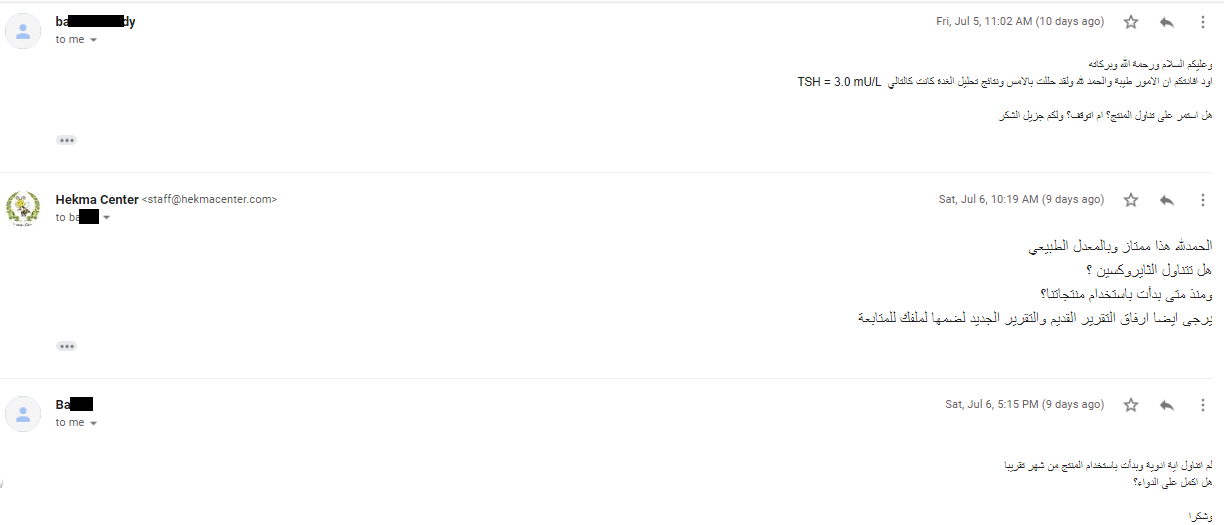 Note:
The featured image of this page is for illustrative purposes only.
Note:
Results may vary from person to person.