The Recovery Story of Mr. Kahled from Saudi Arabia from Throat and Esophageal Cancer in Only One Month
We are all aware of cancer's effect on patients' lives physically and emotionally, hence on the lives of those surrounding them. And if the tumors happen to be in the digestive tract is would even be harder because it would be difficult for the patient to eat normally.
Mr. Khaled, from Saudi Arabia, had stage1 throat and esophageal cancer so he turned to Hekma Center for a treatment that would help him overcome the disease.
Hereby is the story of Kahled's recovery from esophageal cancer after taking Hekma Center's supplement package for throat cancer.
Mr. Khaled contacted us in late December 2019 via whatsapp and described his condition. He then sent the medical reports of his diagnosis. At Hekma Center as usual, we study the patient's condition first and then we prescribed the suitable supplement and wellness program for them. Khaled agreed to the program and purchased the supplements.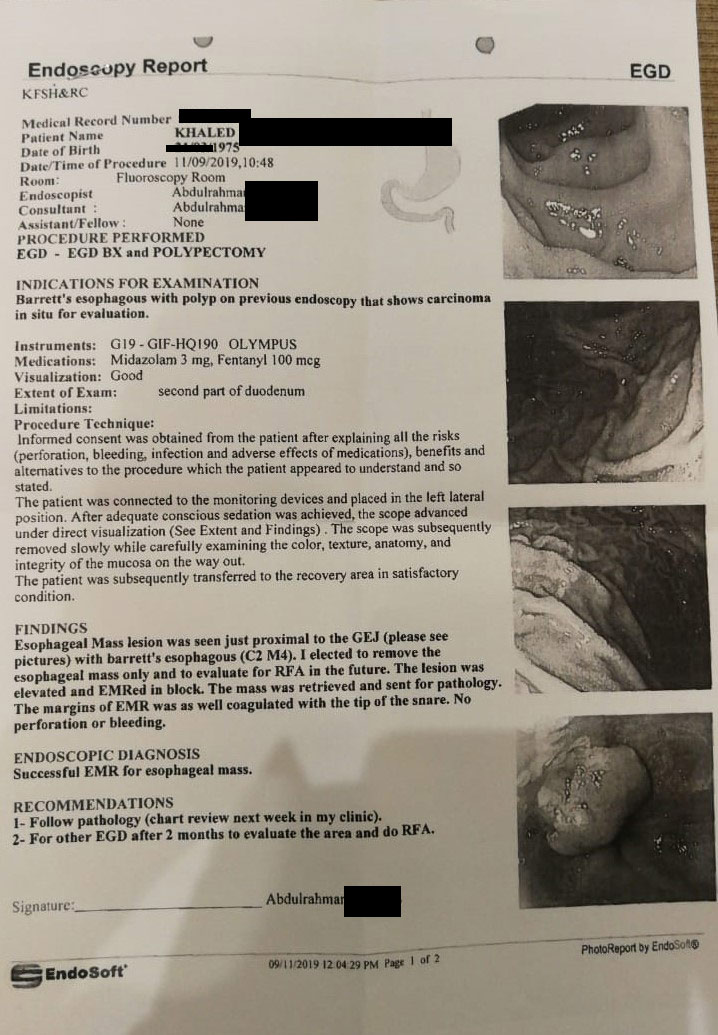 One week later, Khaled informed our staff that he received and commenced the supplement package on 25 December 2019.
The patient contacted us continuously to help him follow up with the program and diet accurately and adequately.
Khaled mentioned that it was difficult for him to take the supplements at first because of heartburn and pain in the tumor's area. However, the difficulties were soon gone, and his condition seemed to improve.
Our supplement package for Throat and Esophageal Cancer consists of effective organic products including Red Clever (Trifolium Pratense), Asparagus Racemosus, Propolis, as well as Mushrooms for cancer.
Correspondence Between Khalid and Hekma Staff Member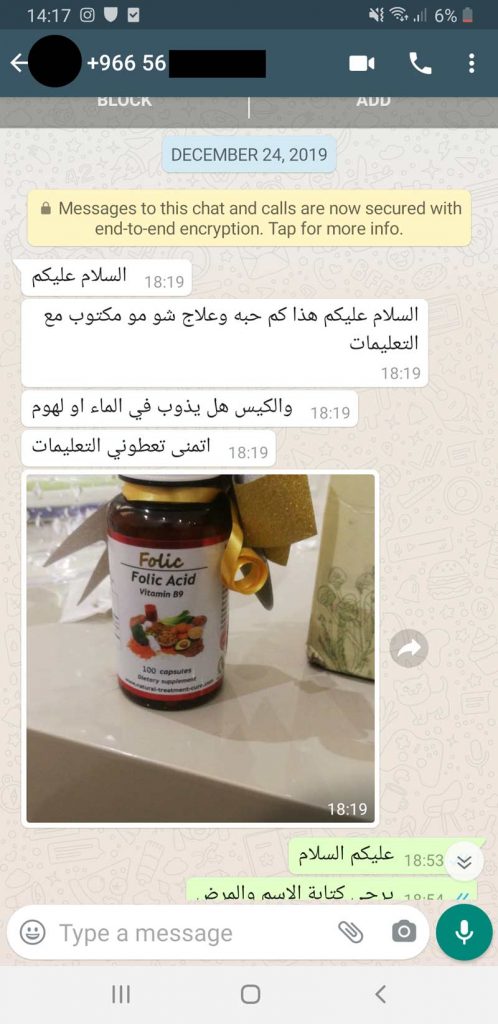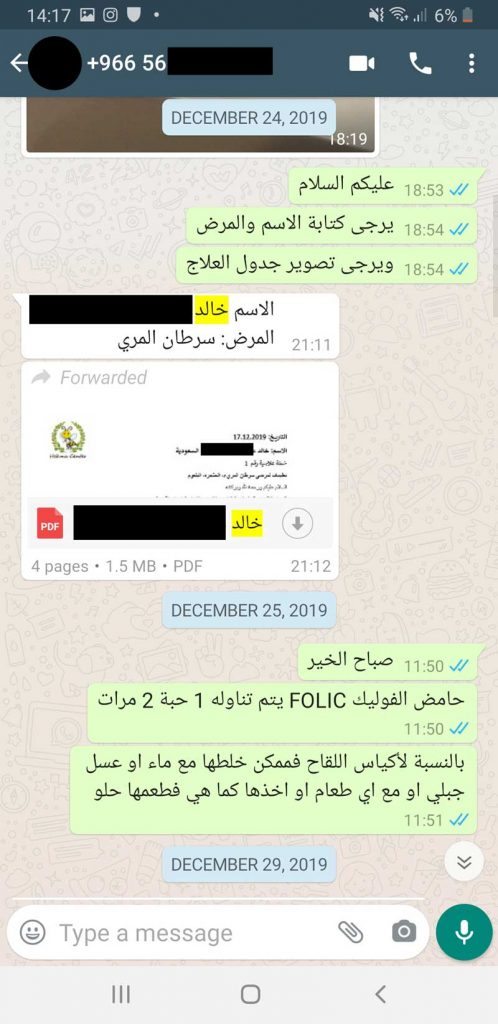 | | |
| --- | --- |
| Person A | Person B |
| Hello | |
| How many pills are in this package | |
| And does it dissolve in water? | |
| Please give me instructions | |
| ( 1 image ) | |
| | Hello |
| | Please provide your name and illness |
| | And a photo of your wellness program |
| Name: Khaled. Illness: Esophageal Cancer. | |
| ( 1 image ) | |
| | Good morning. |
| | Take the folic acid 1 pill, two times a day |
| | As for the bee pollen, you can take it with water or honey, or by itself because it is sweet. |
Recovery from Esophageal Cancer in One Month
In late January 2020, we contacted Khaled to check on his condition and his commitment to the wellness program. Eventually, this is what distinguishes Hekma Center, as we personally, even daily, follow up with each case. We also offer support and guidance for satisfactory results.
The customer's response was genuinely delightful and promising. For he said that his condition has significantly improved, and the esophagus endoscopy report revealed that he was completely cured of cancer. Khaled was grateful for the excellent communication, for the wellness program, and also for the trust.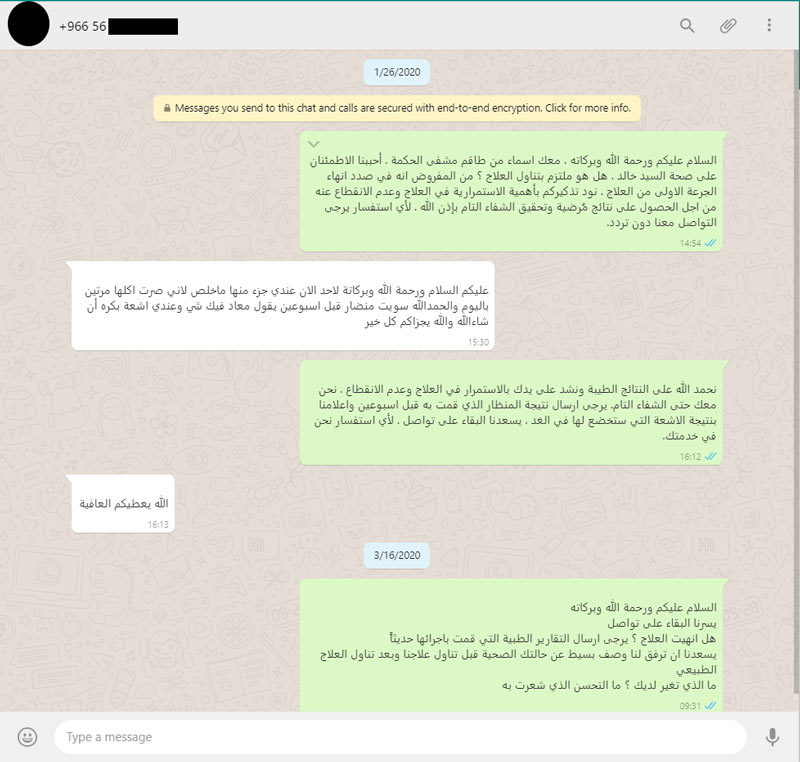 It is worth noting that Khalid's disease was quickly diagnosed and treated without undergoing chemotherapy, radiotherapy, or surgery. Furthermore, his commitment to the specified diet helped to control the disease and eradicate the cancerous cells.
We are happy and honored to be part of Khaled's healing process and for helping countless others around the world.
Note:
The features image is for illustrative purposes only.
Note:
The results may vary from one person to another.