The Story of a Saudi Engineer Who Recovered from Rectal Cancer Within 5 Months
In the year 2016, A.H. (nickname) from Saudi Arabia recovered from rectal cancer and lymphoma in 5 months after he took Hekma Center supplement package for cancer.
May Allah (SWT) grant him with an even more health and protect him from future illnesses.
Attached below are screenshots of A.H. emails to Hekma Center.
Attached also, photos of a hand written thank you letter that he sent to us.
This is How the Story Begins
A.H. is a 55 years old engineer from Saudi Arabia. He first contacted us on June 27, 2016 asking for medical consultation regarding his case. He mentioned that he has been diagnosed with colon cancer with metastasis to the lymph nodes.
Below is a screenshot of his first e-mail to us and his medical reports.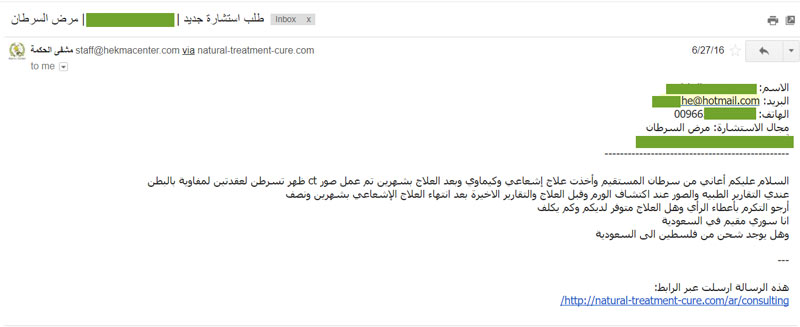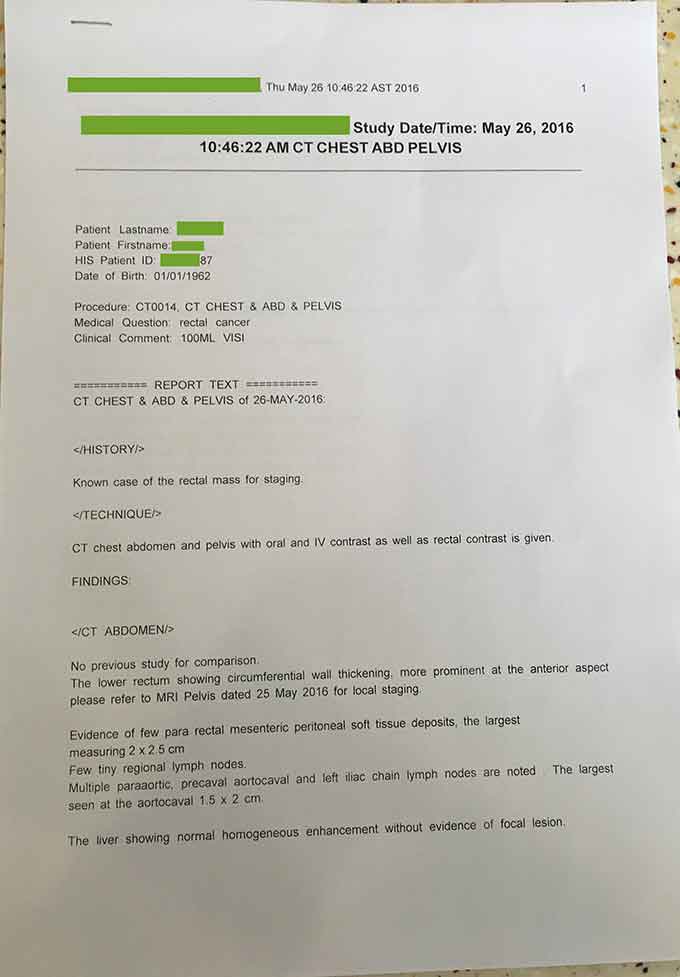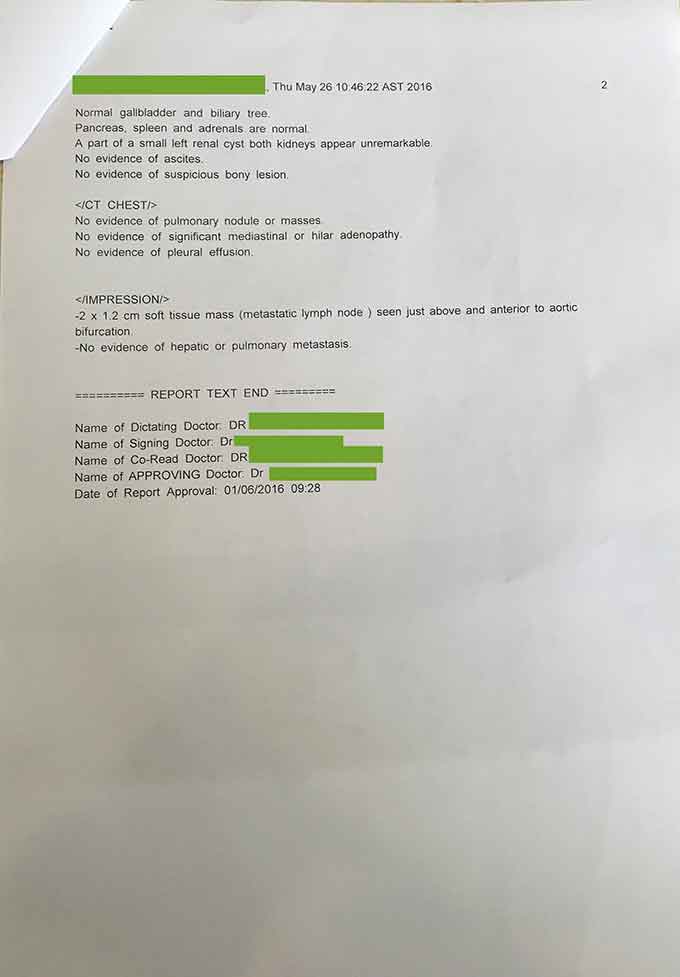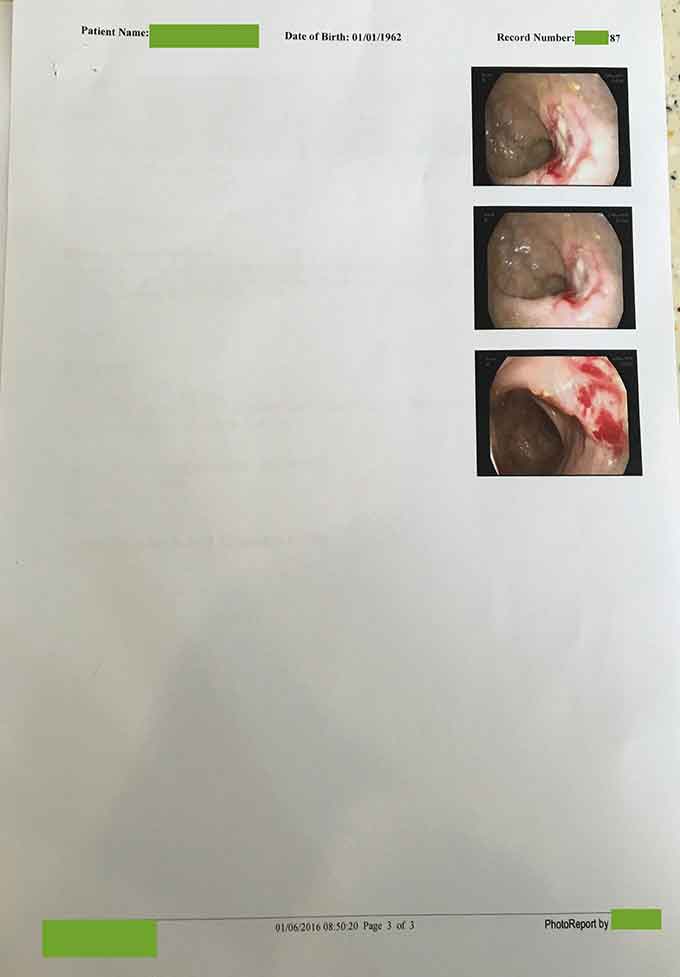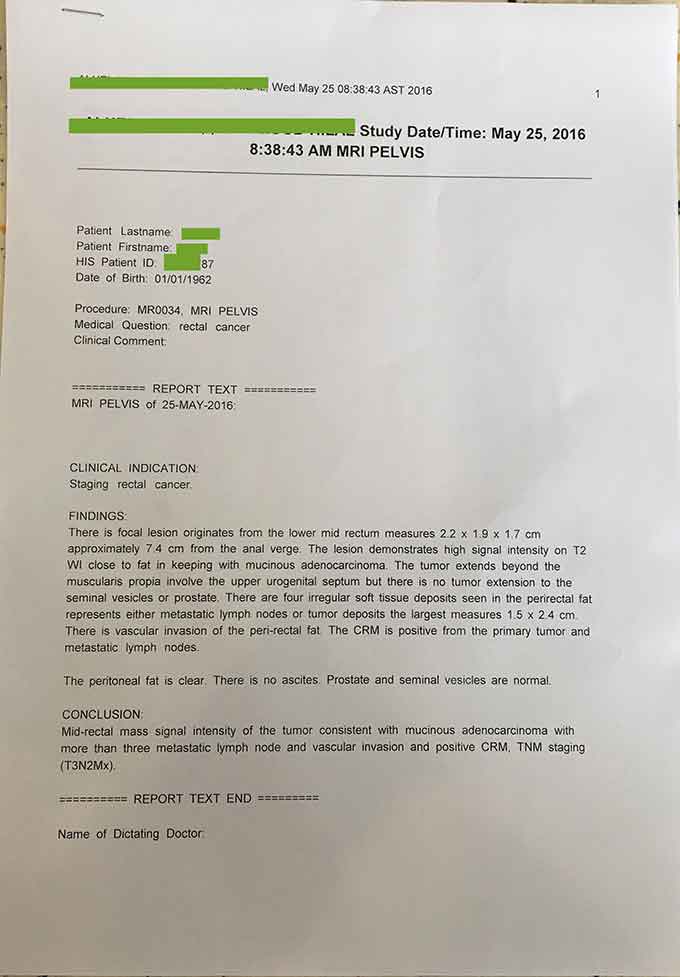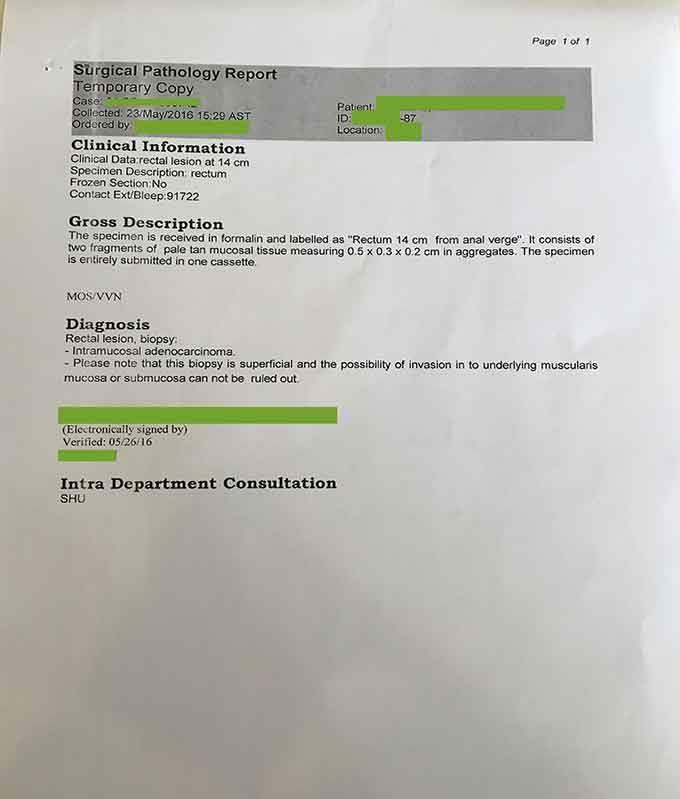 After we received the patient's medical reports and required information, we sent him an e-mail with detailed information about the suggested wellness program that can help with his condition. He had a few inquiries first and then he decided to order the first supplement package on July 16, 2016 and have it delivered to his address in Saudi Arabia.
Our staffing team explained to Mr. A.H. that he should contact his personal assistant from Hekma Center every couple of weeks and keep him/her updated on the latest developments in his condition.
Mr.A.H. Commitment to the Supplements and Wellness Program
Mr. A.H. ordered the second package on August 14, 2016 and the third package on September 17, 2016. By adhering to the program and following the given instructions, he was able to gain strong immunity as shows in his blood tests.
On September 25, 2016, he sent an e-mail informing our staffing team that his MRI scan shows that the rectal tumor has shrunk by 50% in 2 months.
Below is a copy the MRI results.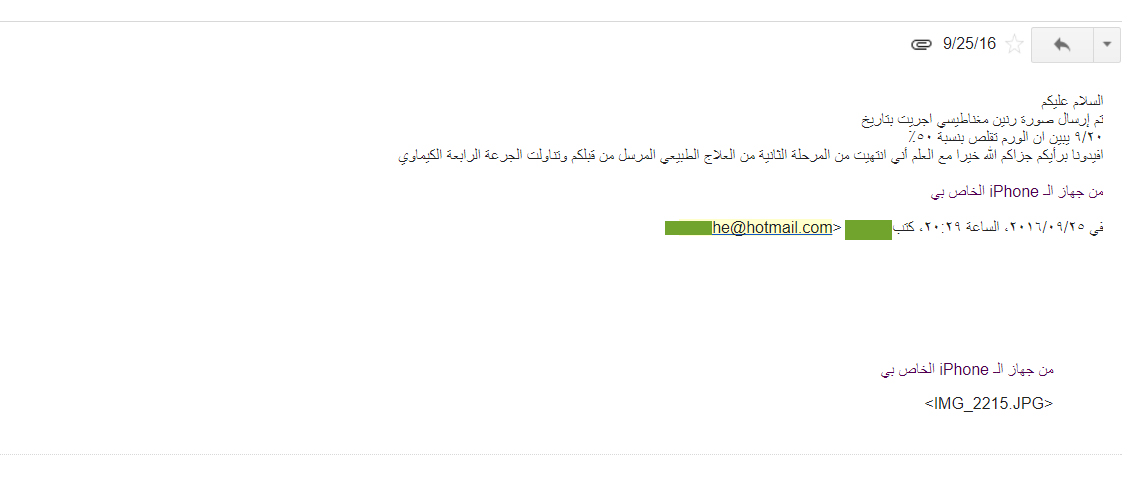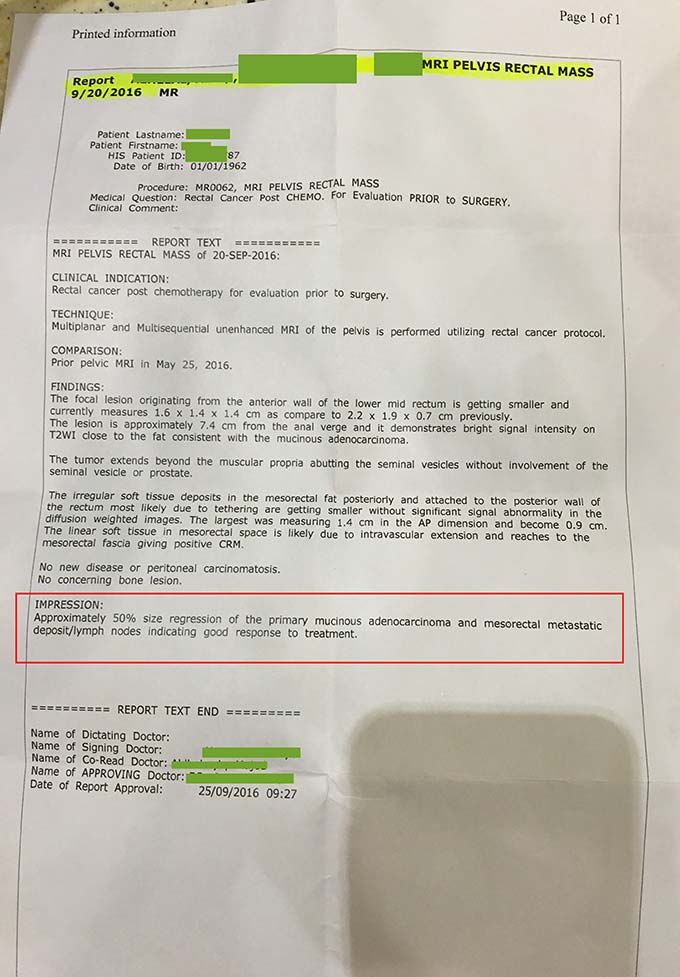 With complete compliance to the wellness program, Mr. A.H. health condition kept improving, so he ordered the 4th supplement package on October 13,2016.
On November 25, 2016, we received an email from A.H. saying his late CT scan showed that tumor shrunk even more.
Attached below is a screenshot of his e-mail and the CT scan report.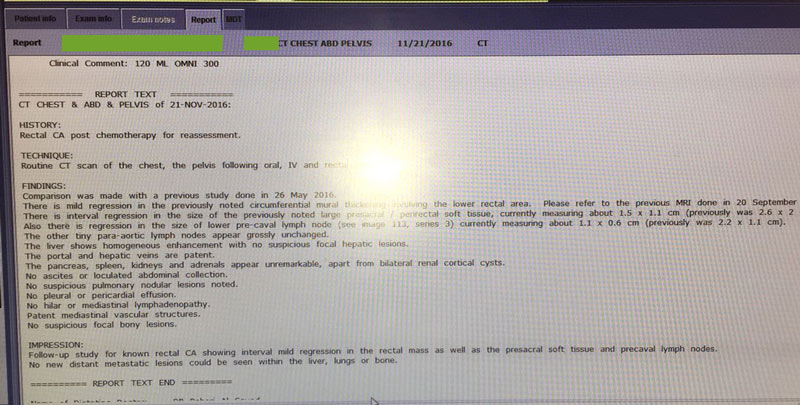 The 5th package was shipped to A.H. on November 28,2016. And by the end of the month he underwent surgery to remove the remains of the tumor. Afterwards, we lost contact with the patients for a month. Then he renewed contact with us saying the he had some complications after the surgery but he overcome them all and is feling fine. The photo below shows his email to us on December 21,2016.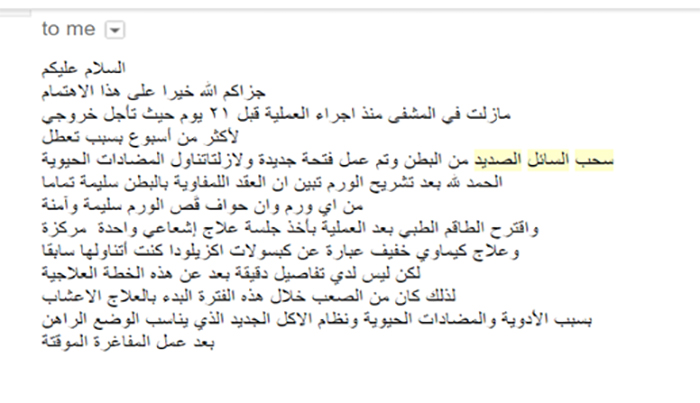 After the Removal Surgery
When A.H. left the hospital he continued with the treatment and finished the 5th supplement package and ordered the 6th one.
According to the program Mr. A.H. was supposed to take a brief break after the 6th package and then proceed with the diluted dosage for protection against the comeback of cancer.
During this break period, we received an email from the patient in which he included the latest medical document that indicated that his body is clear .
Attached below is the medical report: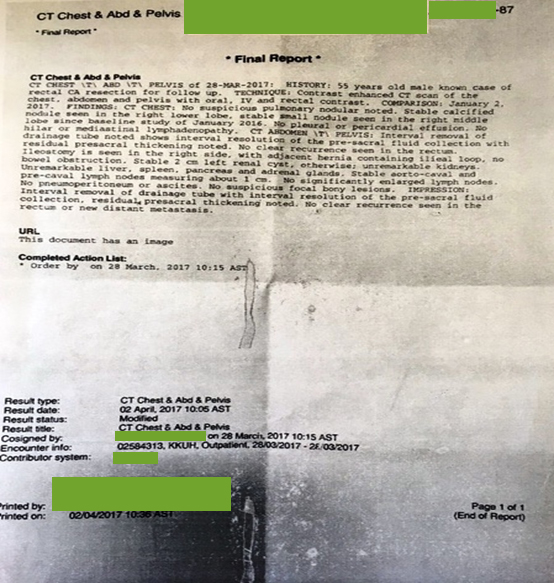 Mr. A.H took the diluted dosage for only a couple of months and up until now he is still healthy and clear of cancer.
Below is a Translation of His Thank You Letter to Hekma Center
"I found out about the disease by accident. I had diarrhea symptoms and mucus in stool, so I went to see may doctor. He told me it seems that I have enteritis (a bowel inflammation) and gave me medication. I felt better for a couple of days and when I stopped taking the medication the symptoms came back and this time they were even worse. I felt more discomfort and I noticed blood in stool. By that time, I did not care much for the blood in stool because I was used to seeing blood in my stool for a while thinking It is due to an old wound.
Long story short, I went to see a different doctor who told me that I have to do colonoscopy because I have passed the age of 50. Colonoscopy revealed that I have a tumor in the rectum (rectal cancer). The doctor suggested that I start radiotherapy (28 sessions). During the first 2 weeks of radiotherapy, I did not feel a thing; however, after the third week, I had severe diarrhea that required medications.
Before I started treatment, I read all about cancer and have refrained completely from sugar and fatty foods and instead I ate leafy greens and some supplements such as turmeric and wormwood."
Mr. A.H Continues
"Two months later I did an MRI scan according to doctor instructions, but results were not as expected. The tumor has decreases only by 25% or even less, unlike what the doctors have indicated. Doctors were also surprised to see that there is a new tumor in the lymph nodes. They said that cancer has spread and estimated my case as stage 4 cancer and suggested that I should undergo chemotherapy.
When I took my first dosage of chemo, I did not feel tired because I was treated in the best hospital in my area. Meanwhile, my sister was searching the internet for alternative treatments of cancer and came across your site by chance and was impressed and convinced with your explanation about the products and ways of cure; therefore, she decided to tell us about you. Me and my wife visisted your website and decided to contact you. Your staff was very cooperative. They provided information and explanations about medicinal herbs and its positive effect on the immune system as well as method of the use. I decided to take Hekma Center supplement package alongside chemotherapy."
More from the Letter
At first, it was hard for me to swallow the capsules because I had to take 90 capsules a day (45 in the morning and another 45 capsules in the evening); in addition to the honey, garlic and cumin. I also had to rub olive oil on myself every day. To be honest, I was disturbed and have suffered from taking big amount of capsules at once, so I decided to add them to yogurt to help with swallowing and after one week, it became a lot easier to take the capsules.
I continued with chemotherapy. And after each session, I used to stay at home for 3 continous days feeling mild pain in my throat. However, thank God on the fourth day, I was able to get back to work like usual. I have to say that I did not experience any adverse effects like the ones you hear about when people undergo chemotherapy.
After the third session of chemotherapy I got fistula or anal fissure, the doctors could not decide exactly. This caused me severe pain, so the doctors decided to put chemotherapy on hold. After the fifth session of chemotherapy that was of light dosage, the MRI scan revealed great results, thank God. The tumor shrunk by 50% and the doctors were pleased with the results.
Of course, I did not tell the doctors that I was taking natural treatments because they do not believe in it since it contradicts with their belief system. Conventional medicine encourages only chemotherapy; but I felt a lot better with the natural treatment and I was determined to continue with the supplements and order a new package every 25 days. The services that Hekma Center offers were great and the packages were delivered right on time.
The End of His Letter
After MRI scan, doctors were surprised to find out that cancer did not aggravate and suggested that I should undergo surgery to remove the remains of tumor because it has declined well and became very small. Surgery went well.
I kept contact with Prof. Hani Younis even after surgery and his support was beyond description, may Allah (SWT) grant him great reward for that. I continued with the natural supplements and my MRI scan showed no evidence of cancer. I was clear. Of course, during chemotherapy sessions my family and friends were happy to see that I did not suffer from tiredness or any adverse effects of chemo. I still take the wellness package from Hekma Center.
I really thank prof. Hani Younis and his staff for they helped me recover from rectal cancer. Special thanks to my wife that helped me to take the doses right on time and follow the instructions that came with the package."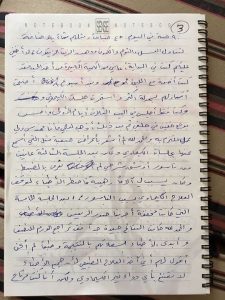 Note:
the featured image of this page is for illustrative purposes only.
Note:
Results may vary from person to person.