A Story of a Bahraini Woman Who Recovered from Breast Cancer
Mrs. M is a Bahraini woman who recovered from breast cancer. M was diagnosed with an advanced stage of breast cancer with metastasis to the bones.
Her journey of healing started on October 5, 2016, when she contacted our staffing team at Hekma Center via Whatsapp and sent her medical reports.
Here is a copy of one of M's medical reports: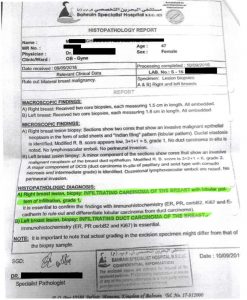 Based on the attached reports, our qualified crew at Hekma Center asked the patient to do additional checkup for the whole body to see if cancer had spread to other body organs. The patient disappeared for almost 20 days until October 24, 2016. Then, she contacted us again saying that she had mastectomy because cancer had spread to the bones.
She explained that her treating physician warned her of breast explosion if she does not do mastectomy, so she did it. M expressed her agony for the removal of her breast. She also said that she is not convinced with the conventional treatments; and does not want to risk experiencing the side effects of chemotherapy and radiotherapy; therefore, she decided to go with an alternative method and take herbal supplements.
Wellness program with Medicinal Herbs from Hekma Center
The patient purchased her first supplement package from Hekma Center on November 5, 2016.
Indeed, M was so persistent and determined to defeat cancer, so she took our herbal supplements for 10 continuous months.
On June 17, 2017, M sent us the results of her new reports including blood tests and Ultrasonography of the upper abdomen. The reports show that there is a significant regression in cancer and that cancer indicators show normal rates.
See attached medical report: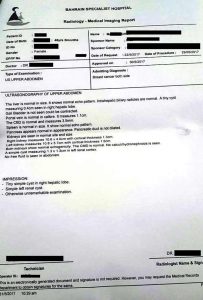 On August 28, 2017, after her 11th course of supplements, M sent a new bone test, which confirms the absence of cancer. With the help of God and our supplements she was finally cured
Attached below is the medical report, which clearly states there is no evidence of metastasis: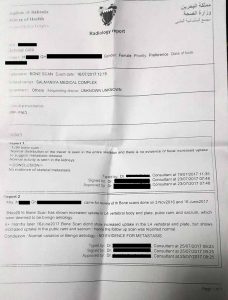 Our crew at Hekma Center suggested that the patient should take the wellness package in case she still has metastasis that did not show in the scan.
A Thank You Letter from the Patient Who Recovered from Breast Cancer
Below is the translation of the patient's letter.
"Greetings,
I would like to thank Hekma Center and its crew for their help. I truly appreciate your efforts to help patients recover. Your products and guidance helped me regain my life back.
I want to write my story in order to help spread awareness and maybe help other patients.
When I knew I had cancer. I read everything I could find about the disease on different websites. I also read about chemotherapy and radiotherapy and about their side effects on the human body. Then, I came to conclusion that I will never take these conventional treatments because they would not be able to heal me. Thus, I started searching for foods that can help treat cancer instead. I ate healthy and avoided sugar and sweets.
While searching the net, I accidentally came across Hekma Center website and was convinced with their supplements. I contacted Mrs. Huda Hani who was very professional and helped calm me down. I prayed for God and asked him to grant me my health back.
My doctor called me, one day, and warned me that I must remove my breast. I tried not to undergo such a surgery; however, they eventually convinced me that the removal process was necessary, so I did it.
The Sequel of Her Letter
After the surgery, my doctor suggested that I should take chemotherapy and the radiotherapy so the disease would not come back. He told me that the success rate without chemotherapy is 60%, whereas with chemotherapy it is by 80%.
To me 20% was not worth taking the risk of damaging my healthy body organs. Thus, I decided to take herbal supplements only. I followed Hekma Center instructions and adhered to the given plan. With these natural supplemets, I felt better each day.
I advise all readers to adhere to a healthy lifestyle and to avoid sugar and manufactured food. I highly recommend natural supplements and wish Huda Hani the best in her life.
Yours sincerely,
Please do not mention my real name."
Below, is a screenshot of her handwritten letter:
Note:
The featured image of this page is for illustrative purposes only.
Note:
Results may vary from person to person.