Overcoming Osteoporosis Completely
Um Mohammed, a senior patient from Saudi Arabia, suffered from osteoporosis and bone pain. She decided to take the wellness supplements from Hekma Center in order to relieve these pains. And after taking the organic supplements for osteoporosis and committing to the provided diet, she received fantastic results in only one month, and she noticed a significant improvement in her strength and general condition. This proves that overcoming osteoporosis is possible for everyone!

The Wellness Supplement Package for Osteoporosis from Hekma Center
The wellness supplement package for osteoporosis consists of medicinal herbs and organic products that help relieve osteoporosis and its pains. These efficient herbs and products include Methyl sulfonyl methane, Urtica urens, zinc, dandelion, Moringa oleifera, and Tanacetum parthenium, as well as a diet and daily instructions and tips in order to help alleviate the symptoms.
Overcoming Hypoactive Sexual Desire
In addition to his mother's supplement package, Mr. Mohammed also ordered a supplement package for hypoactive sexual desire disorder (HSDD) through Hekma Center's website.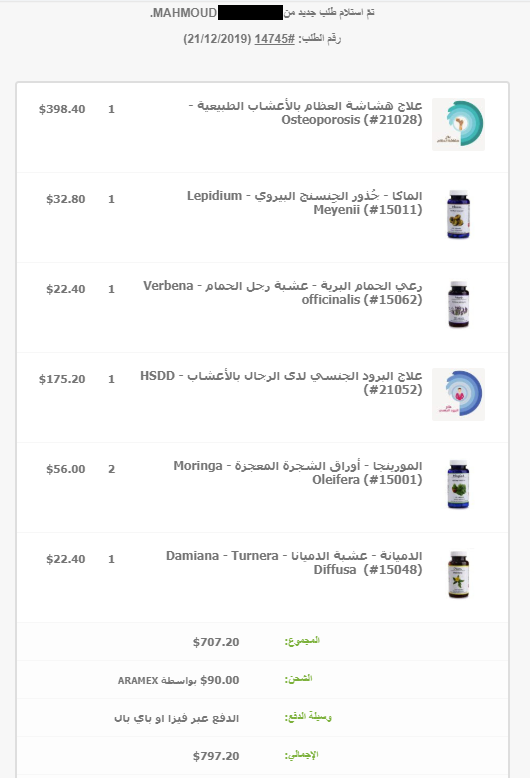 And he informed us of the noticeable improvement in his condition, wherein the supplements helped entirely overcome HSDD within a month.

The Wellness Supplement Package from Hekma Center for HSDD
The supplement package for HSDD provided by Hekma Center consists of efficient, organic, and natural products, including Epimedium brevicornum, Lepidium meyenii, Tribulus Terrestris, and Damiana.
Here at Hekma Center, we strive to provide organic,and natural products that help the patients and improve their lifestyle, and to accompany them throughout their journey.
Our goal is to raise awareness between individuals and different communities of the efficiency of the natural, medicinal herbs that God created for our sake, as well as their ability to relieve and alleviate various diseases and disorders quickly without adverse effects or the risk of addiction. In addition to the significance of following a healthy lifestyle, consuming healthy organic foods, and their impact on the body.
We are concerned about each patient, and we are delighted to accompany them on their journey. Therefore, do not hesitate and join the success stories at Hekma Center.
We congratulate Mr. Mohammed and his mother on overcoming osteoporosis and HSDD, and we thank them for trusting Hekma Center.
Note:
The featured image is for illustrative purposes only.
Note:
The results may vary from one person to another.