Overcoming Hair Loss is Not Far-Fetched! The Story of Mr. Faisal
Hair Loss
Hair loss is one of the most common problems nowadays, for both men and women. Wherein it is a real issue if one loses over 100 strands daily. Hair loss is normal as long as it is within average, and it indicates that the life cycle of the hair ended, and another hair would grow in its place. However, if the loss was excessive, one must know the reason behind it.
It is possible for a reason, or several reasons to lead to hair loss, such as unhealthy eating habits, which lead to a deficiency of essential vitamins and minerals for hair growth like zinc and sulfur deficiency, chemical treatments, anemia, and thyroid gland disorders, wherein hair loss, unhealthy hair, and others are some of its symptoms.
Mr. Faisal from Bahrain read about Methyl Sulfonyl Methane (MSM), and how it significantly helps strengthen the hair, speed up hair growth, and stop hair loss. But he wanted other products that contribute to reducing hair loss as fast as possible. Therefore, he contacted us, and inquired about the suitable products for his condition. In turn, we recommended the wellness package we provide at Hekma Center for hair loss. With this, Mr. Faisal purchased and commenced the supplement package.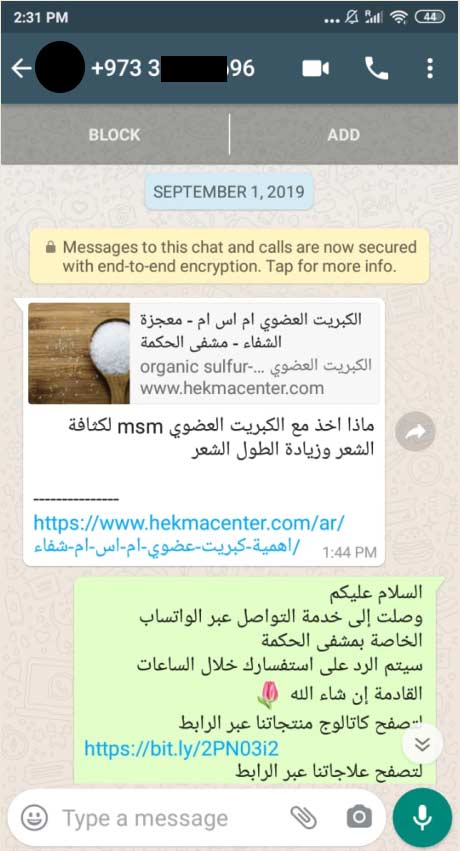 The Organic Supplements for Hair Loss Provided by Hekma Center
The supplement package for hair loss from Hekma Center consists of organic products that contribute to overcoming hair loss and restoring the healthy growth of hair. Moreover, it contributes to solving the reason behind this problem. The wellness package includes the following products, which are better to take together in order to achieve satisfactory results: Moringa Oleifera, Methyl Sulfonyl Methane (MSM), and Zinc.
Note:
In case there is a deficiency of a certain vitamin, do not neglect it, and take its supplements.
Overcoming Hair Loss Within One Month
Mr. Faisal described the noticeable improvement in his condition after taking one supplement package for hair loss (enough for 30 days). And he ordered a second package in order to overcome this problem completely.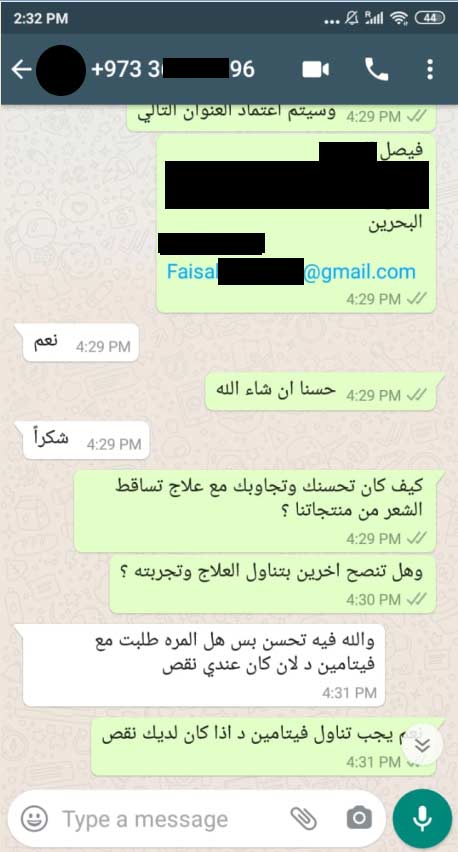 Do not hesitate to contact us in order to enjoy a healthy lifestyle, free of health problems, diseases, and disorders, God willing.
Note:
The featured image is for illustrative purposes only.
Note:
The results may vary from one person to another.