The Recovery Story of Miss Hoor from Bipolar Depression
Overcoming bipolar Depression is not easy. It is a severe disorder that causes a constant feeling of negativity which reflects on one's lifestyle. As a result, it affects the people around them.
Miss Hoor from Saudi Arabia, recovered from bipolar depression and other disorders like negativity, severe fear and anxiety, bad temper, and unwillingness to live.
Hereunder is her healing story, for it could be a ray of hope for whoever feels like they are stuck in the darkness.
Hoor is one of the recovery cases we have in our records. She was certain and hopeful throughout the our wellness program period that she will recover and get rid of all the medications and that she will live an optimistic fruitful life again by overcoming Bipolar Depression.
Hoor Challenges Depression
For many years, Hoor had suffered from severe depression. Moreover, she was highly allergic to certain foods and took several heavy medications that have adverse effects in vain. However, she did not give up; she searched and strived and decided to change her life radically. Wherein she changed her lifestyle, committed to a healthy diet, and took organic supplements and products.
Miss Hoor contacted us on 14 October 2019. She described her suffering from Bipolar depression and its negative impact on her life. Wishing to recover and live a normal, safe lifestyle. After studying her condition, we provided her with a suitable supplement package and a diet that goes accordingly with her allergies.
The Hekma Center supplement package for Depression consists of efficient medicinal herbs. These herbs raise the Serotonin (Happy Hormone) level in the body, and improve the mood. Moreover, the package contains special herbs that help cope with reality and improve the psychological condition. Especially Adaptogen, which exists in very few herbs, such as Lepidium Meyenii, and Ashwagandha.
Hoor received the wellness package and commenced the natural program on 21 October 2019. Although she was extremely anxious and hesitant in taking the natural supplements, she decided to finally take it. The encouragement and support she received increased her self-confidence and motivate her to take new, brave steps in her life. She was in constant contact with the specialized staff member at Hekma Center. She gradually discarded the medications and completely recovered, thanks to God.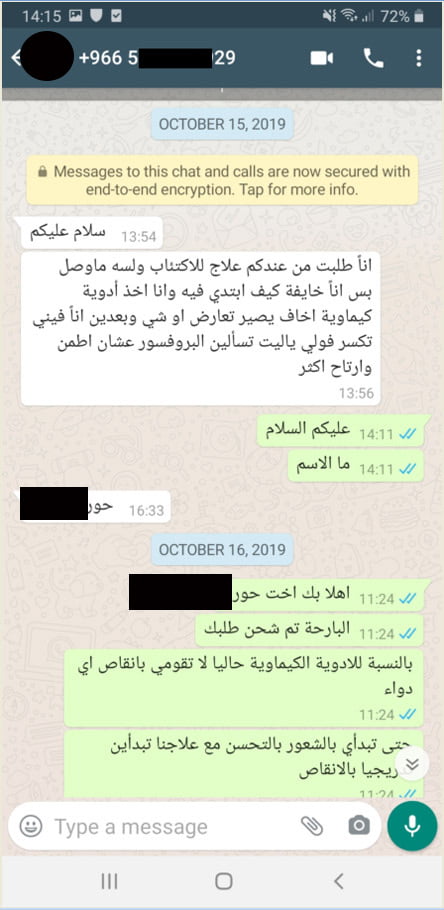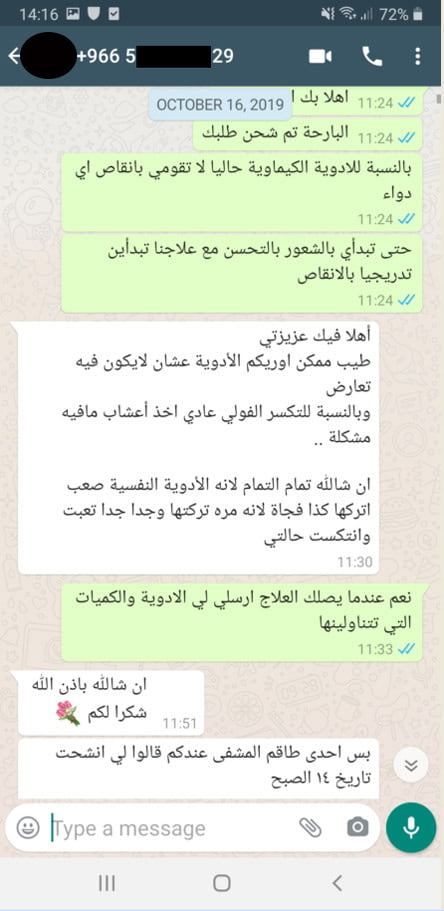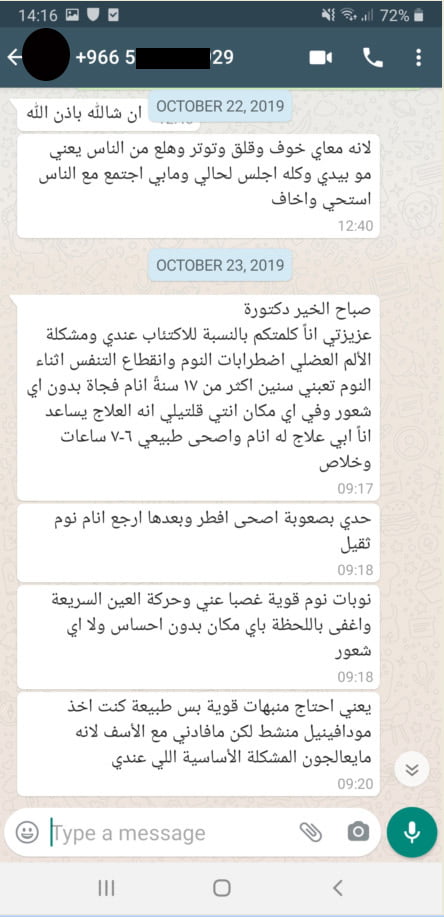 Signs of Recovery
On 15 November 2019, Hoor contacted us, expressing her delight for the promising results, for she improved after taking our natural supplements within less than a month!
Wherein she used to suffer from Bipolar Depression, and severe sleep disorders, in addition to unwillingness to socialize. These were merely the tip of the iceberg.
This speedy improvement, in an illness she suffered from for long years, is an achievement that helped her carry on. As well as be more confident in herself and her decisions to commit to a healthy diet and consume organic foods and products.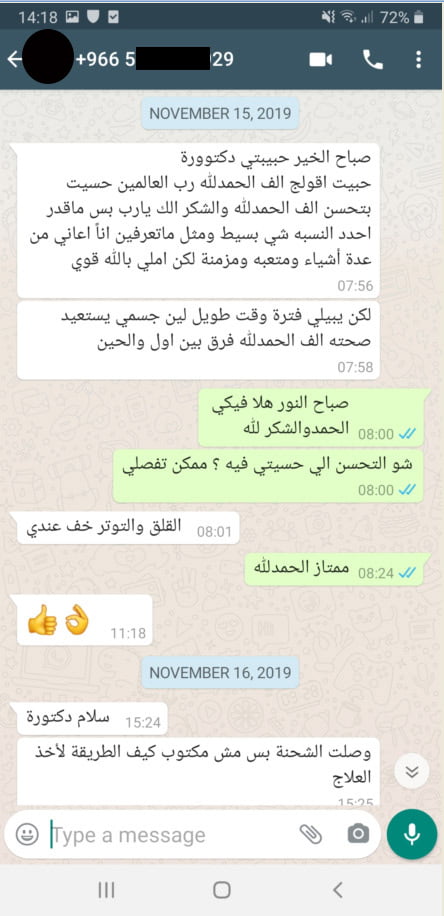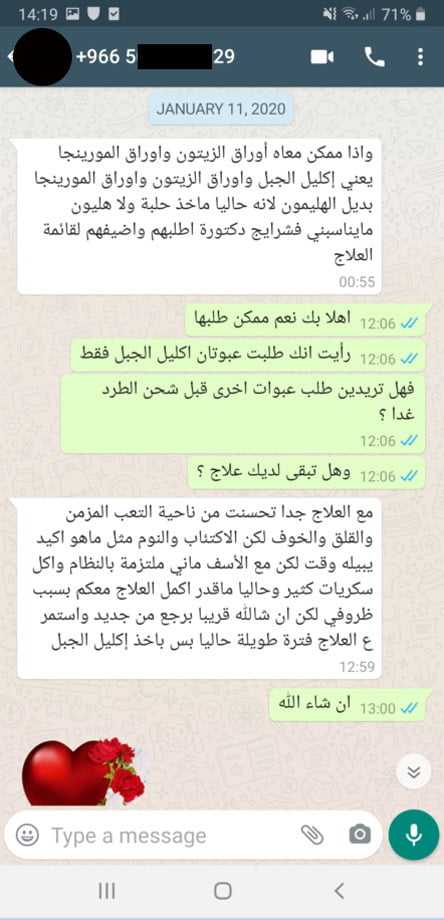 Our team monitored her condition closely and suggested the best way to take the supplements, which products to add, and how to adhere to the diet in order to continue with the improvements and fully recover.
Miss Hoor contacted us again on 27 January 2020, describing the noticeable improvement in the conversation under as follows:
She overcame anxiety and severe fear, better ability to focus, thinking optimistically, and better temper. It is worth noting that Hoor used to have Fibromyalgia as well, However, after taking Hekma Center's organic products, the joint and muscle pain reduced immensely.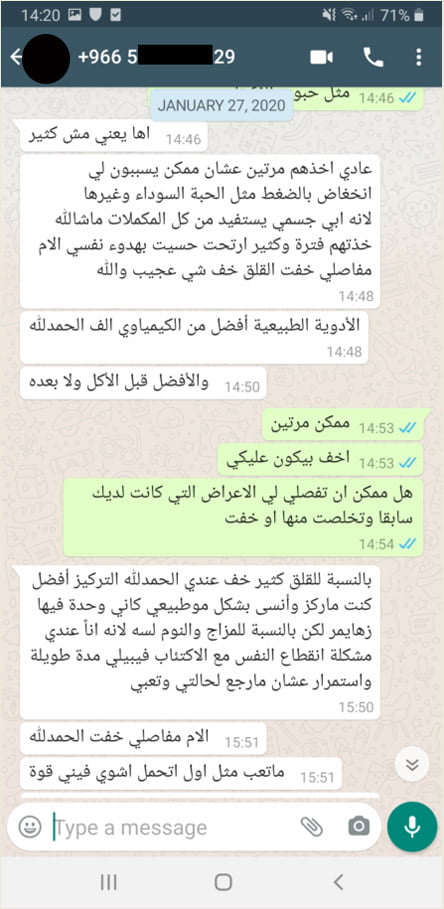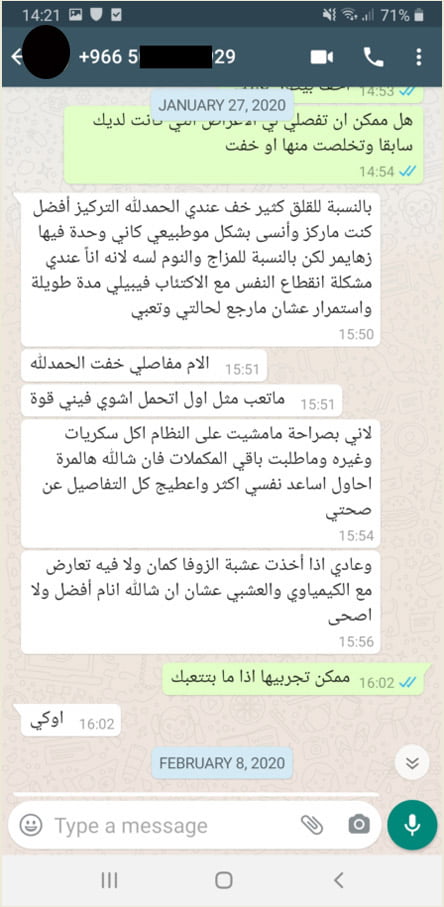 Recovery from Bipolar Depression
On 25 February 2020, Hoor expressed her gratitude and joy to the Hekma Center's staff for overcoming Bipolar Depression and for the wonderful results that changed her life.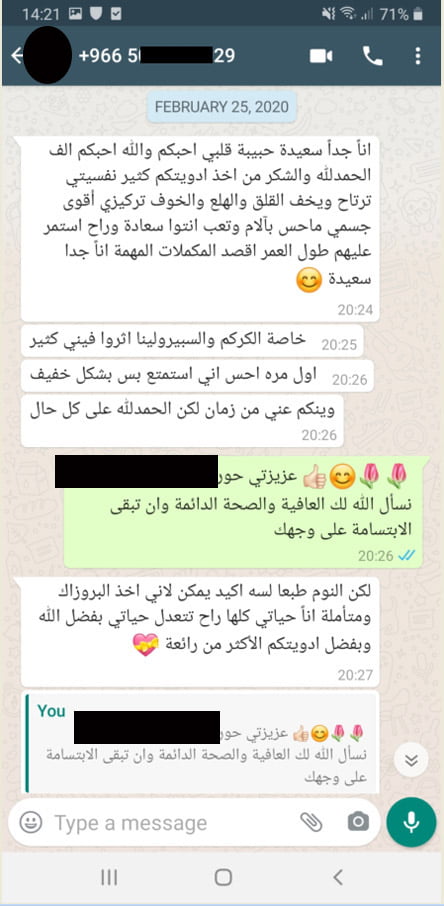 Miss Hoor is taking products according to our directions. Merely for precaution and to maintain a healthy body, good temper, and a robust immune system. She mentioned that she is accustomed to taking our products since they lift her spirit, give her a feeling of comfort and happiness. She moreover expressed that she prefers to take them for good.
We congratulate her on these significant results, and we offer her constant support and help whenever she needs them.
Your smile means the world for us Hoor, may God bless you always.
How about you? Would you like to be the next recovery story?
Note:
The featured image is for illustrative purposes only.
Note:
The results may vary from one person to another.