Abeer's Story with MS
Abeer is a Jordanian young lady who suffered from multiple sclerosis symptoms.
On December 2015, we received an e-mail from Abeer's brother asking us to help him find a natural wellness program for his sister's condition and attached her medical documents.
Based on the received medical reports, Prof Hani decided that Abeer would probably need to take more than one supplement package for MS disease.
Abeer started with the first course of supplements on January 2016. She abided by the instructions and the health plan. So, she noticed improvement by the first month of the wellness program. She regained her ability to walk again after being on a wheelchair and the feeling of numbness she felt in her feet and face was dramatically reduced.
Attached below is a screenshot of the messages: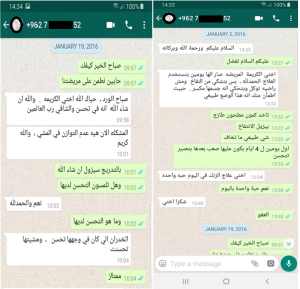 Note:
It should be noted that our crew at Hekma center has informed Abeer that she should continue with the supplements in order to insure full recovery. Yet, Abeer decided not to continue with the supplements, thinking that it is not necessary. She felt that there was no need for additional courses because she felt no signs of MS disease at all.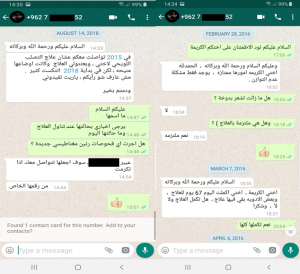 Two Years after Abeer Recovered from Multiple Sclerosis Symptoms
Two years later, Abeer contacted us again. It was no surprise that her condition was deteriorating. She expressed her sorrow and asked us if it is possible at that stage, to continue with the supplements for MS disease.
Here is a translation of Abeer's message:
" Before taking your supplements I couldn't walk. So, you were the reason why I could walk again. I preferred not to continue with the supplements because I felt completely normal for 2 years until 2018. Actually, I had a relapse so I took Cortisone injections for 5 days, yet all attempts were in vain. I cannot have a long distance walk and it is so tiring to walk on stairs. I want to try your supplements for MS disease again."
Attached below is a screenshot of Abeer's letter: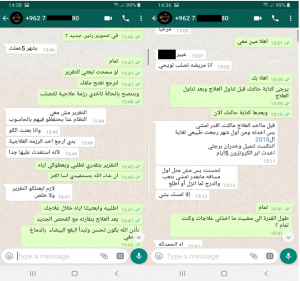 Abeer wrote to us that the chemical medications did not help her at all. Yet, she had gained back her health completely after one month of taking our natural supplements for Multiple Sclerosis Symptoms. Our crew at Hekma center calmed her down. They explained to her that it is so important to abide by the given instructions and to continue with the prescribed supplements in order to see the desired results.
Note:
The featured image of this page is for illustrative purposes only.
Note:
Results may vary from person to person.