The Story of Ms. W.M.A who recovered from Multiple Sclerosis
It is the story of W.M.A (real name is kept anonymous) from Saudi Arabia who was diagnosed with MS – Multiple sclerosis disease. She suffered from pains in the head and neck and from trembling when standing up. Today, the patient is completely healthy and all the mentioned symptoms above have disappeared completely after she took our supplement package for MS disease. We ask Allah (God) to give us the power to help all patients with our supplements. We ask Him to grant all patient with forever health and well-being.
On March 14, 2017, we received the message below. It was from W.M.A's brother, who was writing on behalf of his sister:
"Greetings,
I have been suffering from MS – Multiple Sclerosis since 2008. So, I checked in in all hospitals in Saudi Arabia searching for a cure, but I failed to find one. I was told that I would not be able to find a cure for this disease here or elsewhere in the world, but I knew that you – Hekma Center have one.
In the past and despite my disease, I was able walk still, until five years ago; I started to use the wheelchair. I could not walk normally and I lost balance. So, I had an MRI scan and the results showed many black spots on my brain. At the hospital, they told me that I must take daily injections, and till now I am searching for a relief. Attached are my medical reports. Please reply to this message ASAP."
See attached documents below.
Quick response to patient messages
On the same day, Prof. Hani Younis replied to the message so we informed the brother that we have supplements that could help with Multiple Sclerosis. Since we are keen to be honest with our patients, we told him that the wellness program would be somewhat long in this case, for his sister has a more advanced stage of MS – Multiple Sclerosis. We told him that his sister would need to order more than one supplement package consecutively in order to regain her health again. We also made sure that he knows the importance of adhering to the given instructions and the diet plan that we send with the supplement package for Multiple Sclerosis. Due to her severe condition, there was no guarantee that the patient will completely recover; however, she will for sure notice great improvement.
In the morning of March 22, 2017, we shipped the package to Saudi Arabia. The patient began to take the capsules immediately. She used to call us from time to time to help with the instructions.
Improvement After Suffering from MS Disease
On June 08, 2017, we received the following letter in which the patient explains the great improvement that she felt:
"Greetings,
Thanks to God, after taking the first course of your herbal supplements for Multiple Sclerosis that lasted for two months, I feel a great improvement in my health condition. I had an endless pain in my neck, head and lower back and I used to tremble when I stand up. Yet after using your supplements, I no longer feel the mentioned symptoms. I am continuing to take the supplements so I can strengthen my muscles. Thanks to you, Prof. Younis, It is due to you that I can live normally now. If you could please, send the second course of the supplements. I hope I can walk after using it. I await your response."
Follow up with the patient
The second supplement package for MS disease was shipped on July 04, 2017. Three months later, on October 4, the patient's brother called the Center and was very excited. He told us that the patient went to Jordan to make some necessary tests when the doctor told them that blood flows normally in her paralyzed leg, and that she now she needs to have physiotherapy so she can walk again.
The patient's brother called us again on October 18, also to inform us with the latest news. He told us that the doctors in Saudi Arabia were in shock as they saw that spots have completely disappeared from the brain. They said that they have never seen a case like this before.
We asked for the patient's recent medical reports in order to bring this story to you, perhaps it will inspire people who have MS.
Medical reports prove that the patient has recovered.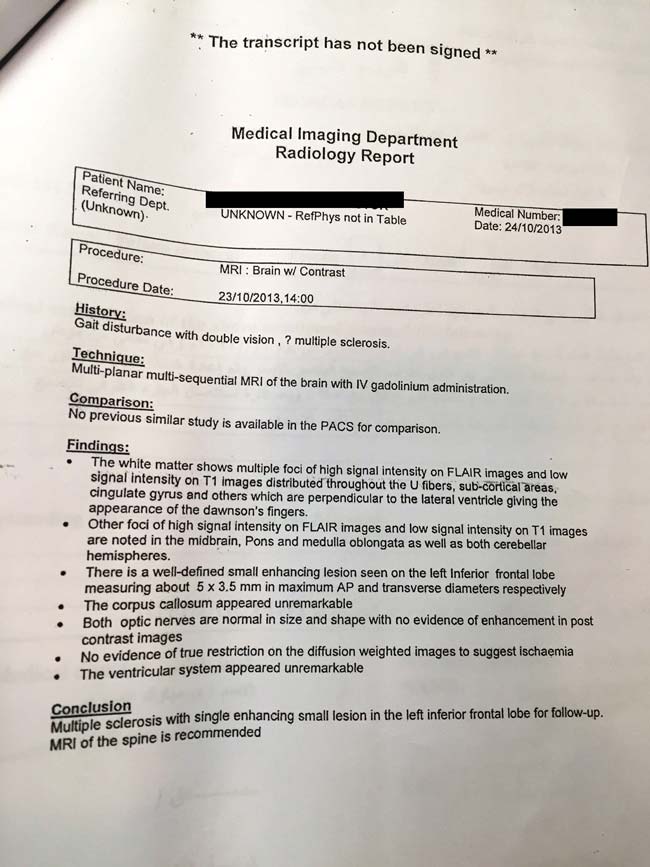 Note:
the featured image of this page is for illustrative purposes only.
Note:
Results may vary from person to person.