A 16-Year-Old Teenager, Hala, Defeats Lymphoma Cancer
Here is the story of Hala who cured from lymphoma cancer within a month and a half. Hala is a Jordanian teenage girl, who defeated lymphoma cancer using our herbal supplements.
Hala's affectionate mother was the one who contacted us during the whole wellness program for her daughter. From beginning to end, She was informing us with Hala's condition.
Inquiry about the Supplement Package for Cancer of The Lymph Nodes:
Hala's mother contacted us for the first time on Seprtemer, 27, 2018. She was shocked and agonized with the bad news about her daughter's fatal disease.
Therefore, our staff at Hekma Center calmed her down and asked her to provide more details and medical documents that specify her daughter's condition.
Attached below is screenshot of the conversation and the medical reports: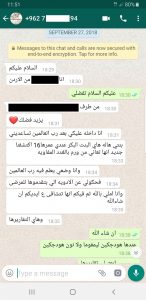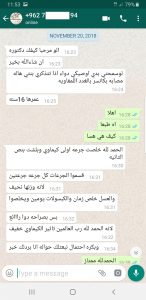 At the beginning of October, Hala received her first supplement package for cancer of the lymph nodes and immediately started with it. A month and a half later, Hala's mother informed us that her daughter has done some tests including a PET CT, and the results showed that Hala's body has perfectly responded to our herpal supplements.
Attached below is a screenshot of her message: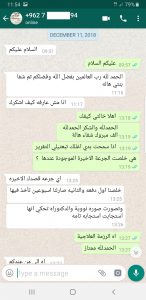 A Letter of Appreciation.
Hala's mother later wrote to us a letter of appreciation. In her letter, she wrote:
I am Hala's mother. My daughter is 16 years old. She is my dearest and eldest daughter. So, in this letter, I will briefly tell the story of my daughter's struggle with cancer of the lymph nodes and the way she was able to defeat it at the end.
One day, Hala ran to me asking me to see a huge pimple on her neck. It was tremendously huge so I got concerned and immediately took her to the hospital. Then, she had to do biopsy and CT scan. Unfortunately, the tests showed that my dearest daughter suffers from lymphoma cancer. It was an aching shock. Furthermore, I could not walk; and I felt that life had stopped. I tried to stay calm; yet, tears rolled down my eyes uncontrollably.
At the same day, my nephew told me that her acquaintance has cured from cancer of the lymph nodes. Moreover, she told me that she tried a herbal supplements that she got from Hekma Center in Palestine.
Hala's mother continues:
This news was like a light at the end of the tunnel. It gave me hope.
Late the same day, I sent a message to Huda, CEO at Hekma Center, who was so kind and supportive.
She requested that I send her all the medical documents that I have in order to pass them through to prof. Younis and his staff; who would decided upon the suitable supplements for my daughter based on those documents.
The supplement package for cancer of the lymph nodes came with a diet plan that my daughter had to adhere to it. We immediately started with the supplements alongside chemotherapy sessions. Before she finished chemotherapy, my daughter was already cured. So, I thank God Almighty and thank you Hekma Center for helping my daughter get her life back.
When I heard the news, I could not help but contact Huda right away. So, I wanted to inform her with the happy news. My daughter recovered after the first course of the supplements; then we took another 2 wellness packages to protect against cancer.
I would also like to say that, even though my daughter used to take chemotherapy, she did not experience any of the side effects associated with it. Obviously, your herbal supplements are the reason why her immune system maintained functioning as normal. Moreover, she even did not lose her hair. Her digestive system on the other hand, was slightly affected as she sometimes used to vomit.
Below is a screenshot of the latest messages between Hala's mother and us: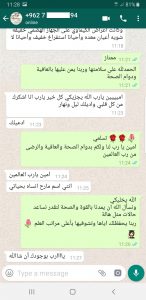 Attached below is a screenshot of the final medical reports showing that Hala has completely recovered:
Note:
The featured image of this page is for illustrative purposes only.
Note:
Results may vary from person to person.