A Story of Survival: A Kuwaiti Man Recovery from Lung Cancer, Stage IV
We bring to you a story of Mr. Mohammad from Kuwait and his battle with lung cancer stage IV. It is safe to say that Mr. Mohammad is now healthy after using our herbal supplements for lung cancer.
Mr. Mohammad was diagnosed with lung cancer on February 2016 and was automatically scheduled for chemotherapy sessions. Then, he underwent only two sessions and decided to quit and look for an alternative. Therefore, on November 30, 2016 Mr. Mohammad decided to contact us for the first time, hoping to find a reliable solution since he does not want to continue with chemotherapy. Thus, he wanted to know if we could help him in this regard, especially after he browsed our website and read about the natural supplements that we in Hekma Center offer.
Attached below is a screenshot of his first message:

Then, Mr. Mohammad sent all the required reports and medical documents to our staff at Hekma center. They, in return, have passed them through to Professor Hani Younis to see if there is anything, we can do to help him in this case.
Afterwards, Prof. Hani Younis decided upon the suitable herbal supplements, based on the given medical reports that describe the patient condition.
On December 5, 2016
Mr. Mohammad ordered his first supplement package for lung lesion in order to start with it as soon as possible.
Attached below is a screenshot of the patient's medical report: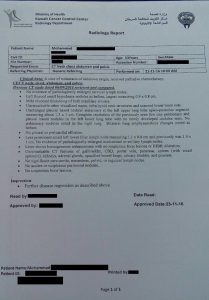 Indeed, Mr. Mohammad was so determined to defeat the tumor that is why he took the prescribed medications regularly and adhered to our health plan and instructions for a whole year. So, time had passed quickly and Muhammad's health was improving each day. So, with each therapeutic course he took, he felt noticeable progress.
The Recovery
On October 18, 2017 Mr. Mohammad sent us a message, to inform us of the final results of the nuclear radiation test. Above all, the report clearly stated that there is no evidence of any tumor in Muhammad's body, which means that he is completely cured.
Note:
The patient had a stage IV cancer.
Attached below screenshots of the messages between Al-Hekma Center and Muhammad: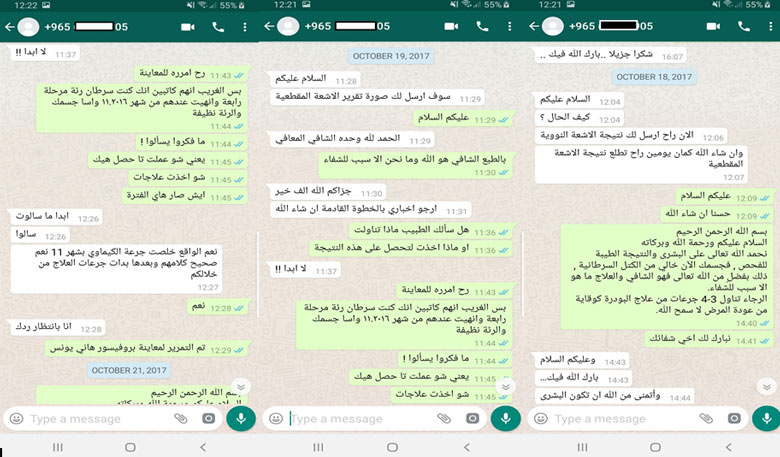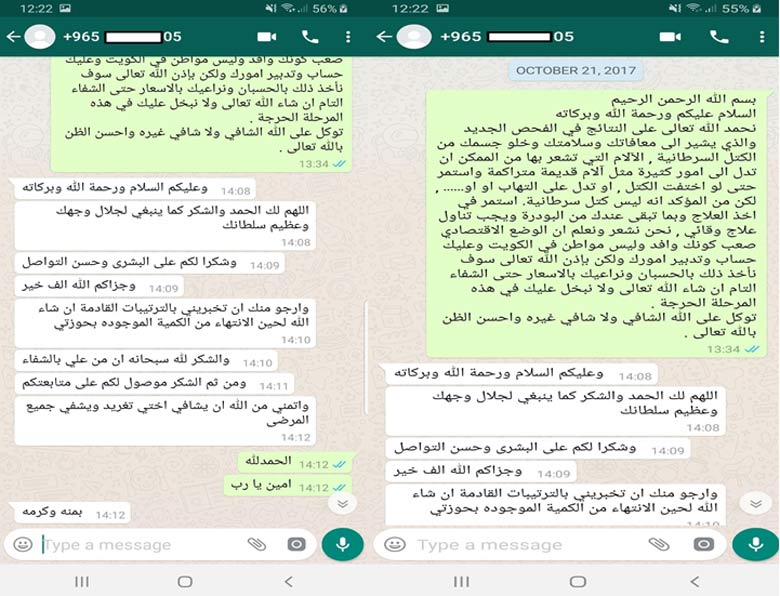 It is our duty to give thanks to God Almighty for healing Mr. Mohammad from cancer. With the help of God and our supplements, Muhammad has defeated lung cancer and is now completely healthy, in spite of his severe condition.
Note:
Mr. Mohammad took only our herbal supplements and did not continue with chemotherapy.
Attached below, are the medical reports that confirm Mr. Mohammad's recovery.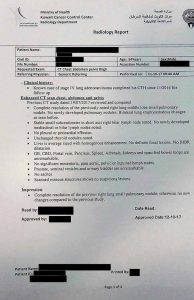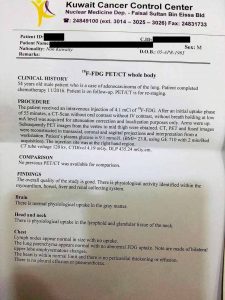 Note:
The featured image of this page is for illustrative purposes only.
Note:
Results may vary from person to person.