After Years of Struggle with Joint Pain, Ms. Nawal Was Finally Able to Overcome Them
Health is one of God's blessings that He bestowed on humans, but illness is a test from God to people in order to test their patience and faith.
Let's check out the story of Ms. Nawal from Saudi Arabia who suffered from unbearable pains because of rheumatoid arthritis (rheumatism).
Nawal's story began when she discovered she had arthritis and rheumatism, wherein she suffered daily from intolerable pains.
Ms. Nawal contacted us, complaining about the severe pains she had that kept her up every night. Therefore, we prepared and shipped her the wellness supplement package for rheumatoid arthritis to take for a month.
Ms. Nawal informed us that she felt a significant improvement after the first package.
The tests showed positive results that indicate the beginning of the disappearance of the inflammation. We immediately shipped her another supplement package upon her request in order to fully overcome rheumatoid arthritis, God willing.
On 8/1/2021, Ms. Nawal finished the second wellness package and informed the Hekma Center's team of the promising improvements in the messages below: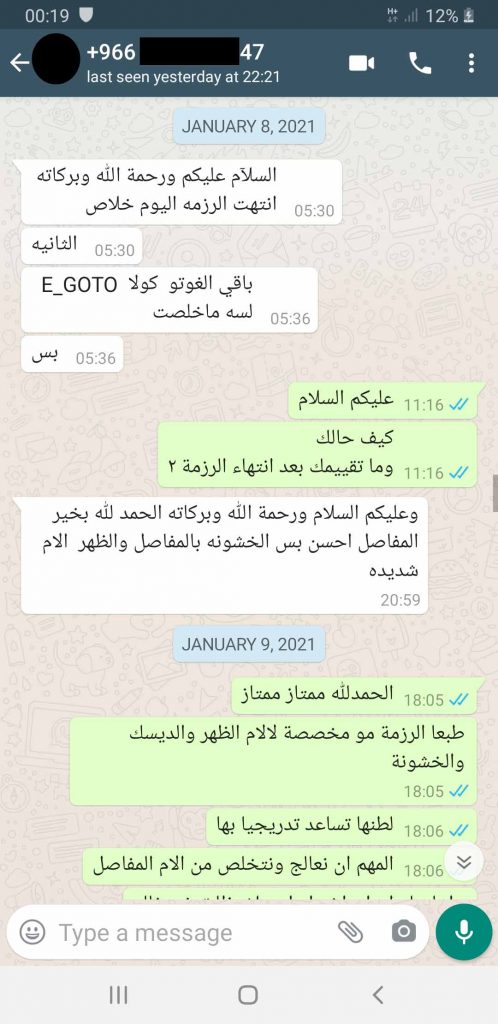 On 18/1/2021, Ms. Nawal from Saudi Arabia did the necessary tests.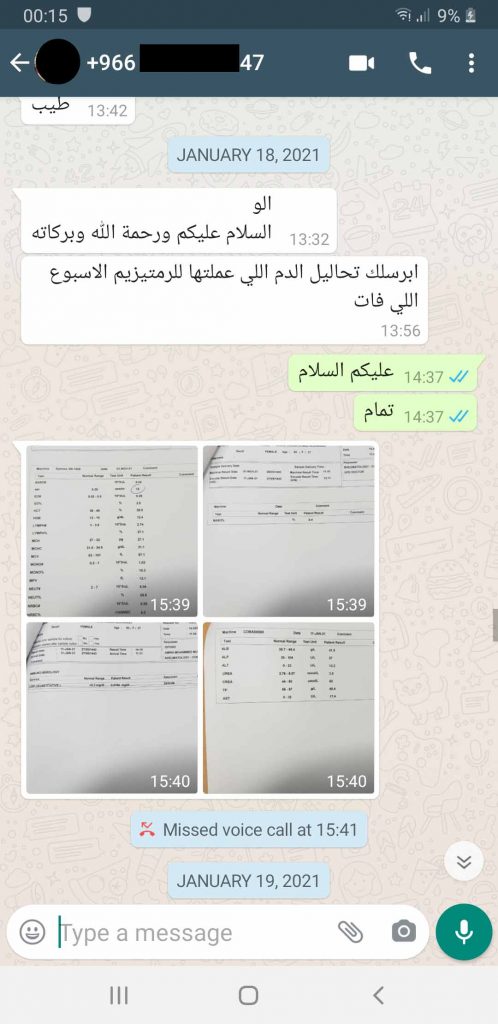 Medical Reports Show Normal Levels!
Doctors ask for several medical tests when wanting to diagnose or follow up a disease progression, including a CRP blood test. The test results revealed that Ms. Nawal's CRP level is 0.0784, and the normal level that indicates no progression of the disease is less than 0.3, which what Ms. Nawal's result proves, meaning that she got rid of the inflammation.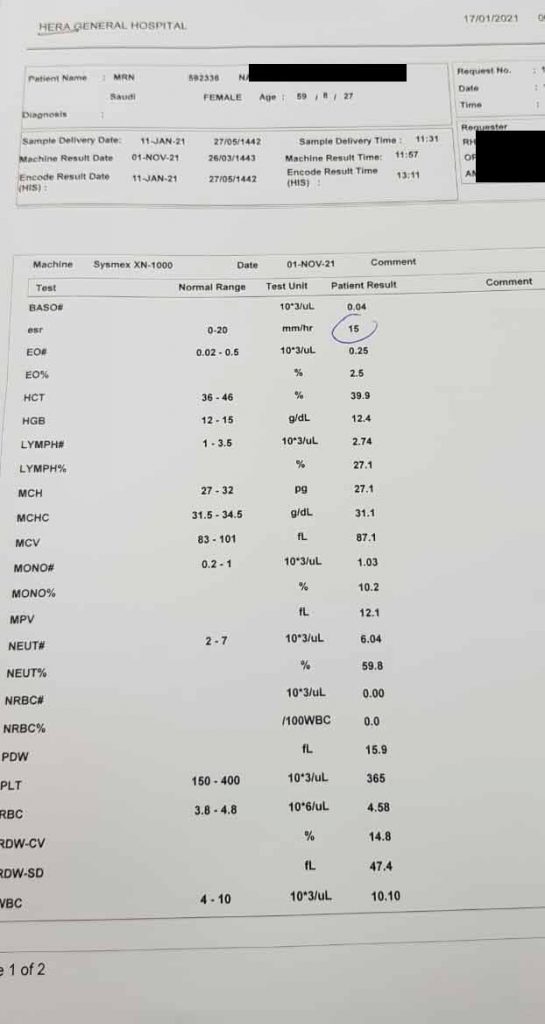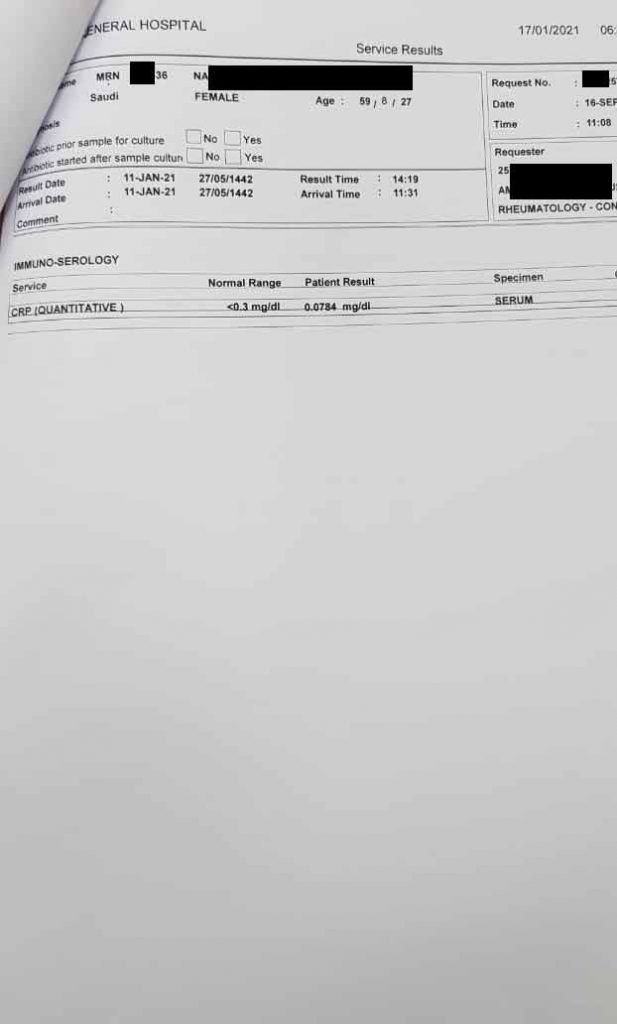 Moreover, the tests revealed that the ESR test; the test that confirms having an inflammatory or anti-inflammatory activity in the body, (the normal range for not having an inflammation is between 0-20). And Ms. Nawal's test result was 15, meaning that it is within the normal range, which confirms not having inflammation in her body.
"Yes! All Joint Pains Disappeared" This is What Ms. Nawal from Saudi Arabia Said
We did not relent for one second from telling her the wonderful news, and we sent her a message that reveals her tests results that reveal 100% normal inflammatory markers.
Ms. Nawal informed us that she no longer feels joint pain in the message below.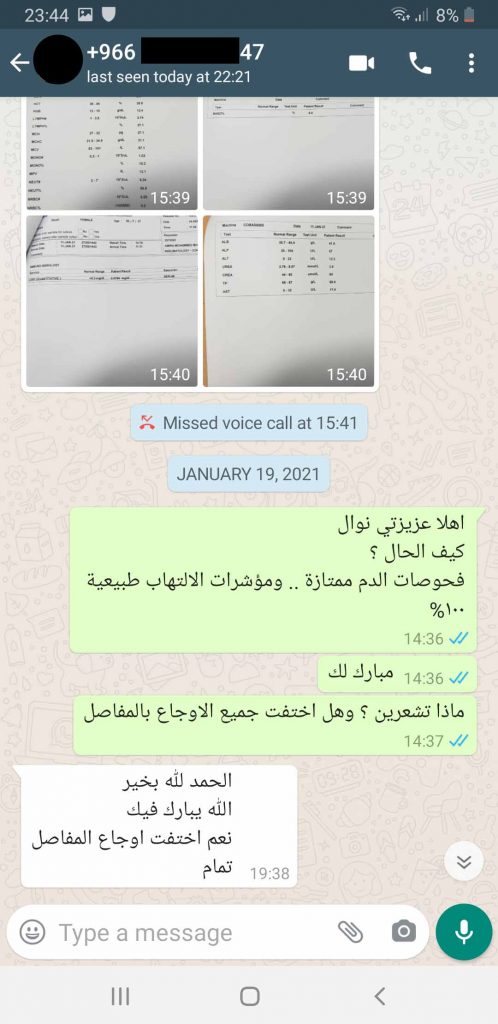 We congratulate Ms. Nawal for overcoming her medical condition and the painful joint pain. And we wish her constant health and wellbeing.
Note:
The featured image is for illustrative purposes only.
Note:
The results may vary from one person to another.
Suggested Product
Natural Supplements for Rheumatism

Super effecient supplement package for Rheumatoid Arthritis with medicinal herbs. highly recommended by specialists at hekma center. order you package now.