Anas – A Palestinian Young Man Suffering from Infertility.
Anas, 25 years old, has become fertile after taking our organic supplements. He and his wife were struggling to conceive because he had fertility issues.
He had low sperm count, abnormal sperm morphology and problems in sperm motility.
Anas wrote to us for the first time on August 4, 2018. He sent us some medical documents and described his condition with Infertility, saying that he also suffers from erectile dysfunction.
Our staff at Hekma Center passed the reports through to Prof. Hani Younis and he prescribed the suitable supplements for his condition. Prof. Younis gave Anas also a healthy diet regime to follow. The patient had to adhere to the given instructions since he had some unhealthy eating habits where he used to eat only junk food and energy drinks.
Two weeks after his first message, Anas started with our supplements. He complied with our instructions and adhered to the given plan. Some of the products included in the supplement package for Infertility were Tribulus Terrestris, Damiana and Maca root.
A month later, on September 27, 2018, Anas contacted us again. He sent us new medical documents that show a noticeable yet insufficient improvement. Therefore, it was necessary for Anas to continue with the supplements to get the desired results. Indeed, he continued taking our supplements and he became fertile.
Attached below, is a screenshot of the medical reports: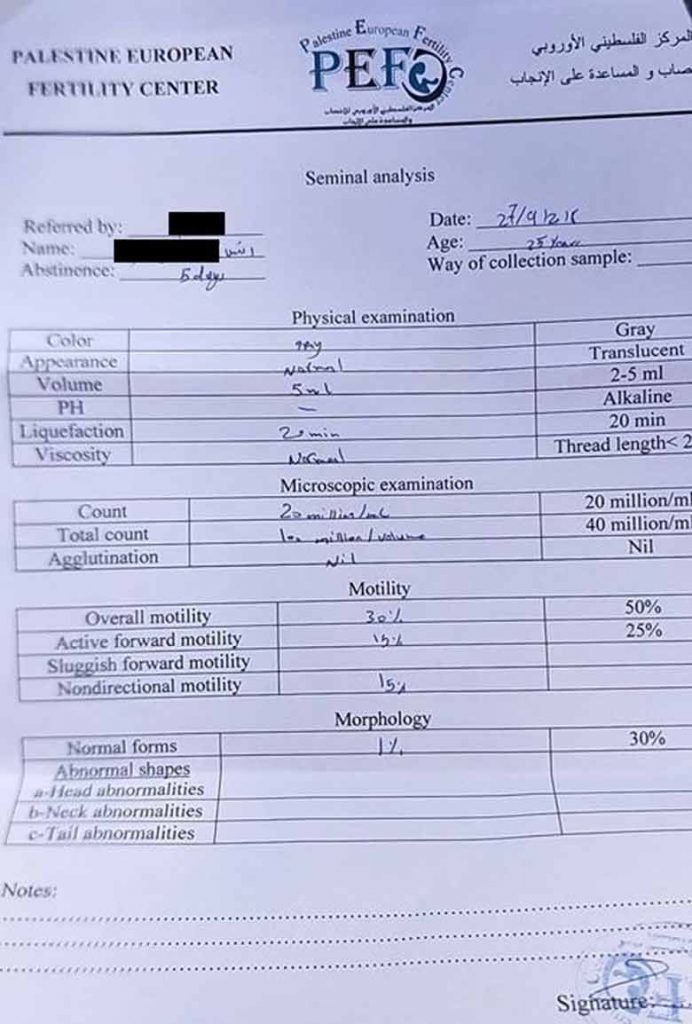 Note:
It is worth mentioning that, the insufficient change that had been noticed was due to the fact that sperm development cycle takes about 72 days.
Gaining the Desired Results:
At the beginning of October, Anas started with the second course of the supplements for infertility. And on October 30, 2018 Anas sent another new report. The new report shows, a significant improvement in sperms count, morphology and motility.
Attached below, is a screenshot of the medical report – October 10, 2018: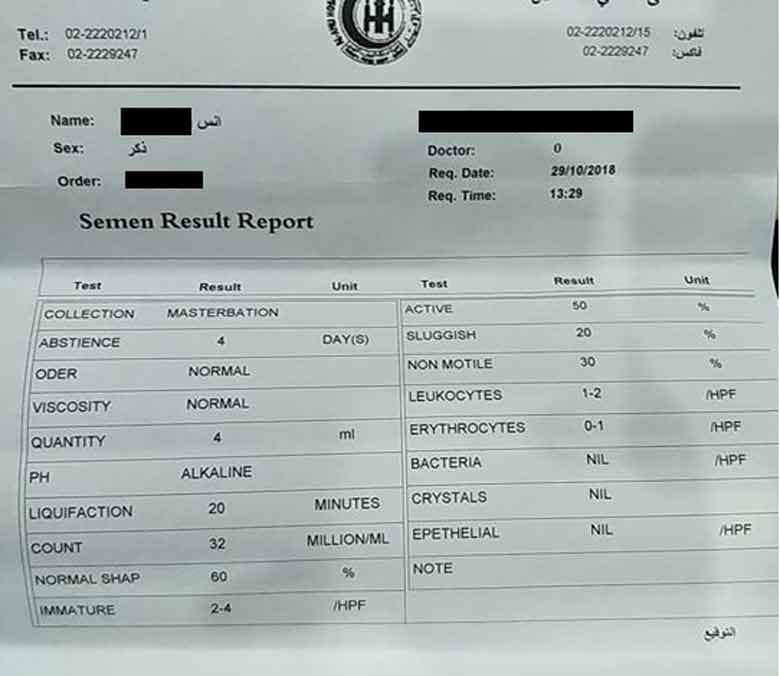 The recent medical documents proved that Anas now is completely fertile and better than normal. Today, Anas and his wife are finally able to conceive naturally.
Note:
The featured image of this page is for illustrative purposes only.
Note:
Results may vary from person to person.
Suggested Product
Natural Supplements for Infertility

A supplement package for infertility or lack of fertility with medicinal herbs. Contact Hekma Center to get the package now. we offer free consultation.