Improvement Signs in Mr. "ony"' Condition, and the Beginning of the PD Wellness Supplements' Result in Only Two Weeks!
Nothing is more important than health and a normal, illness-free lifestyle. Unfortunately, everyone is susceptible to certain diseases or disorders like PD for many reasons, including neglecting changes in the body or frequent new symptoms, not maintaining a healthy lifestyle and consuming fast processed foods, excessive electronics exposure, excessive use of chemicals, and stress. However, what matters is how we deal with any disease or disorder, and the coping mechanism to overcome it.
From Scotland, Mr. "ony" contacted our team and described every nuance regarding his health condition and struggle with Parkinson's disease and its symptoms. He inquired about the wellness program provided by Hekma Center for PD and the shipping. The team at Hekma Center thereby guided him through the order and how to take the supplement.
"ony"'s Significant Improvement in Only Two Weeks- Signs of the Herbal Supplements Results
Parkinson's disease (PD), also known as Shaking Palsy, is not an easy illness. It highly restricts mobility and daily activities, and it is challenging to cope with it, especially if the patient suffers from severe tremors in the hands and feet. Therefore, we congratulate Mr. "ony", who possesses a will of steel and the ability to combat the disease and getting such results only after two weeks.
"ony"'s improvement was in the following:
Stronger and better voice, better saliva management since the patient had sialorrhea, better urinating control, the patient also suffered from shoulder and neck rigidity due to PD, and he currently feels better with less pain, and can move his hand up and down and control it while lying down, unlike before the organic herbal supplement package form Hekma Center.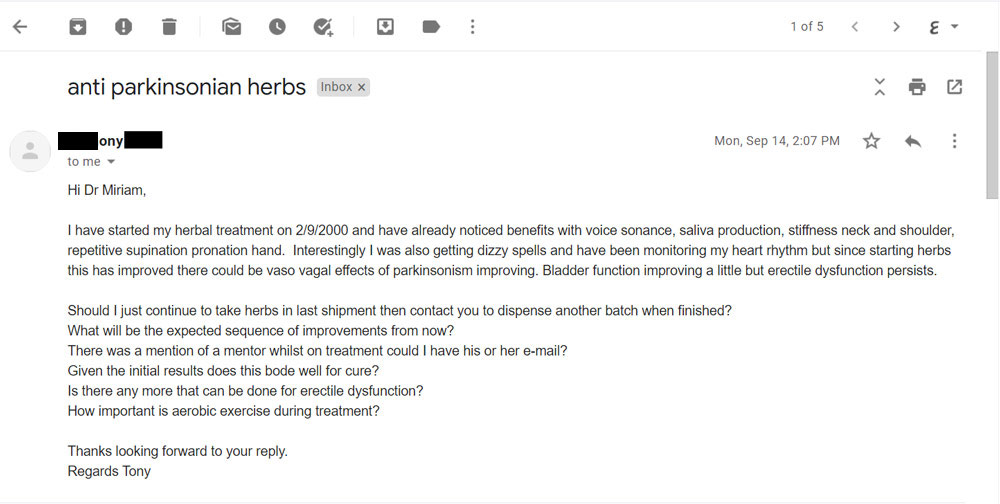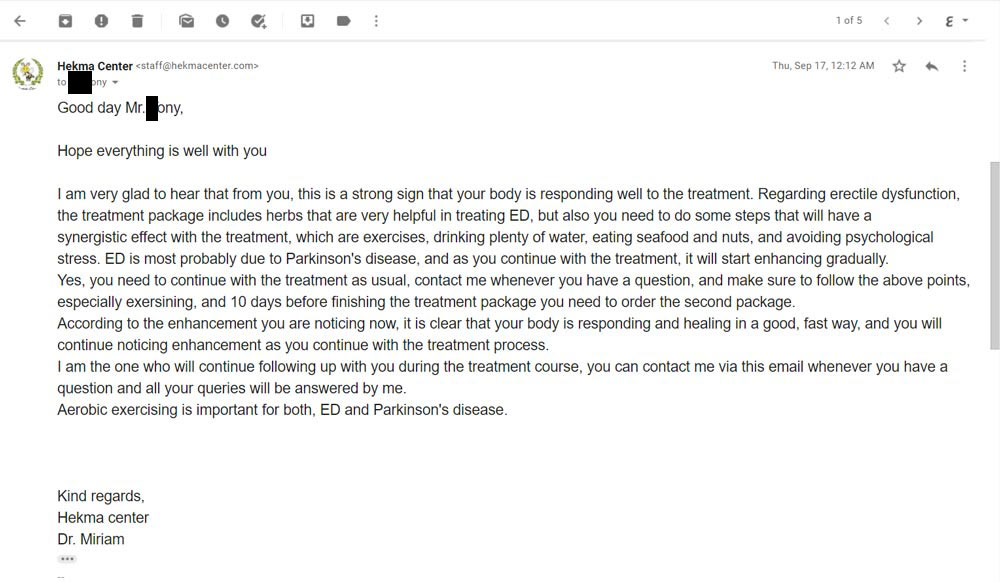 The Wellness Supplement Package from Hekma Center for Parkinson's Disease
The organic supplement package for PD consists of several medicinal herbs that help gradually alleviate PD and its symptoms. In addition to daily instructions and healthy meals suitable for Parkinson's disease patients.
The supplement package consists of 17 organic products, including Mucuna Pruriens, Moringa Oleifera, Verbena Officinalis, and Ashwagandha.
Overcoming Parkinson's Disease
We urge Mr. "ony" to carry on with the supplements and the instructions. We will support him until he overcomes PD, God willing, and we ask God to provide us the power and knowledge to be able to help similar cases around the world.
As for the reader, please keep up with the updates of this story, which would include details about Mr. "ony"'s overcoming PD story.
Note:
The featured image is for illustrative purposes only.
Note:
The results may vary from one person to another.