This New Zealand Father Could Not Cope with PD, So He Contacted Hekma Center to Control the Disease
Today's success story is about a New Zealand man who suffered from Parkinson's disease (PD), also known as shaking palsy.
His daughter contacted us through WhatsApp on 26.6.2020, explaining her father's condition and the symptoms he suffers from, and asking if there is a suitable solution for him. Indeed, after replying, the staff sent her the first wellness package.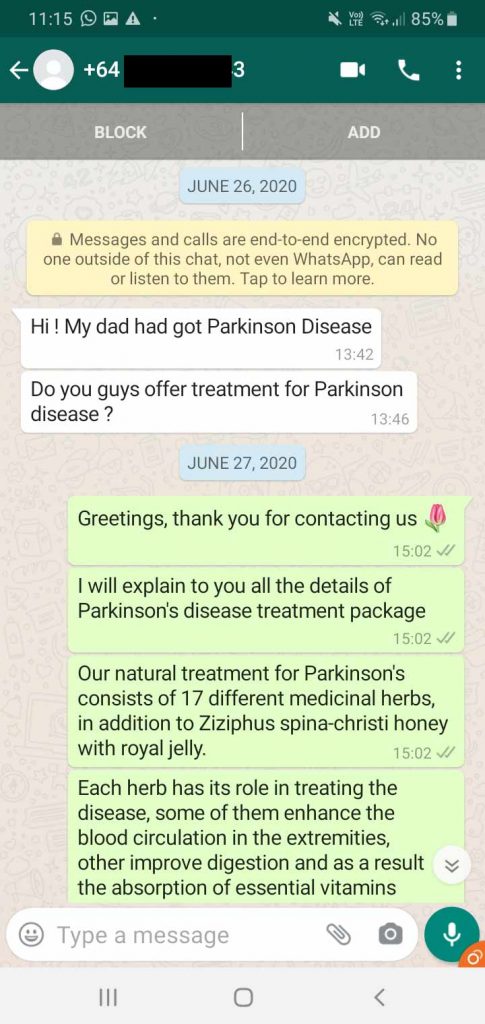 The father suffered from many PD symptoms, including dementia. As well as sleeping disorders, wherein PD patients experience hallucinations of imaginary people, which hinders their sleep and tranquility.
His daughter elaborated further: "gets aggressive starts shouting and trying to harm either himself or the imagination person"
In turn, we explained to her everything she needs to know about the wellness supplement package from Hekma Center. And thoroughly elucidated the role of each herb and product in the package.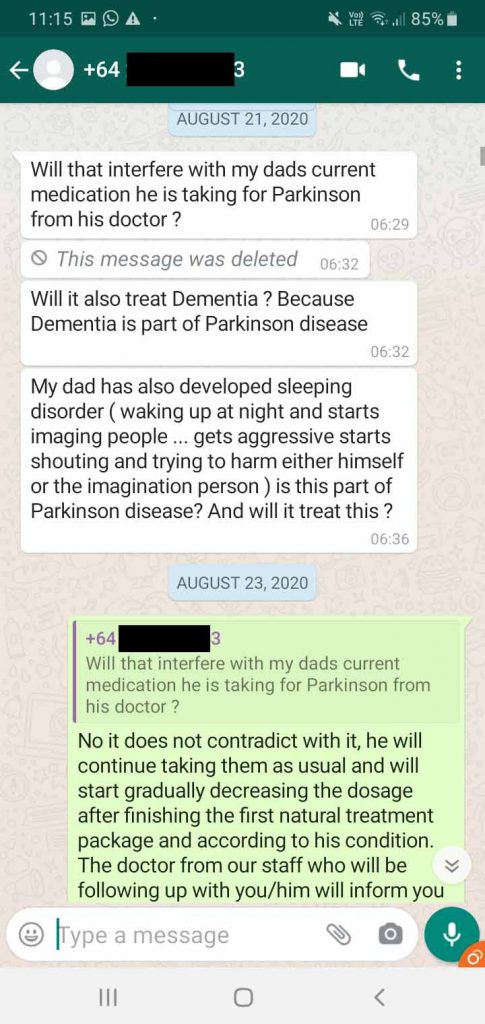 On 8.10.2020, and after two months of taking the supplements, Hekma Center's team sent a second wellness package. And the patient's daughter contacted us expressing her delight with the incredible results after taking two supplement packages.
Because of our supplements, the father controlled the PD symptoms, and there was a noticeable improvement on his behavior and speech. Moreover, he became more alert, and his motor functions improved significantly, especially his shoulders and the upper part of his body.
His daughter said: "But he is so much improving like his talking his mental awareness and hand shaking are all improved."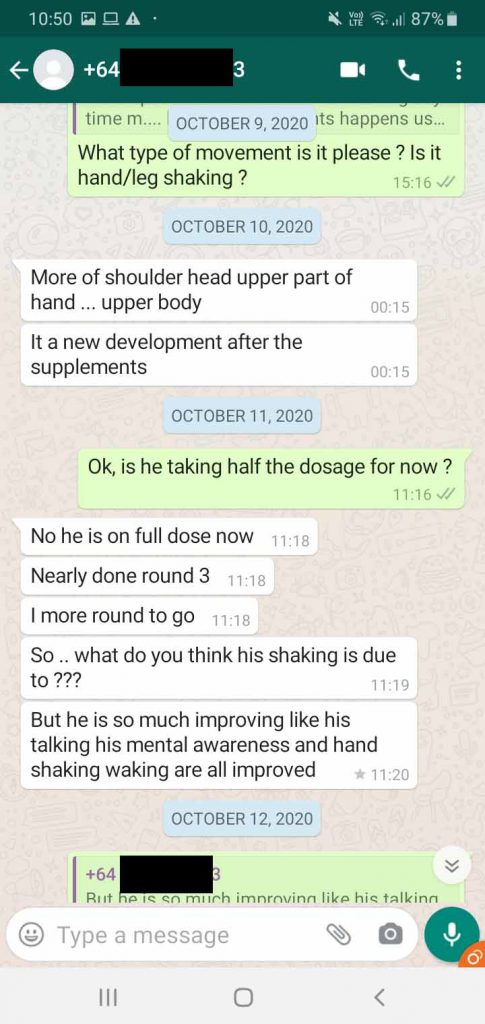 On His Way to Overcome Parkinson's Disease
On 8.2.2021, and after a few months of the latest PD supplement package, the patient's daughter contacted us again to inform us of the newest improvements.
She happily told us: "Hi !! Mt dad has improved a lot… his physical appearance, his, walking, less shaking, his toe nail Fungal infection has Disappeared."
And she asked if he needs another package, since he suffers from some difficulties, like muscle stiffness when turning in bed at night.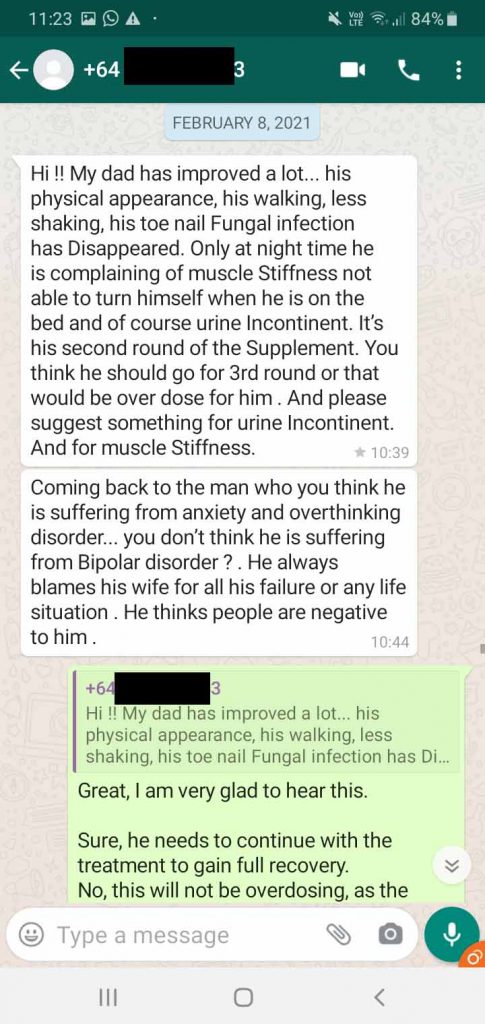 Trusting Hekma Center's Products
On 16.3.2021, the daughter contacted us once again after trusting our products.
For after seeing the positive results and improvements on her father's condition after taking the supplement package for PD she recommended our products to others. And she inquired about the wellness supplements for memory weakness, depression, and skin and hair health, and purchased the suitable supplements.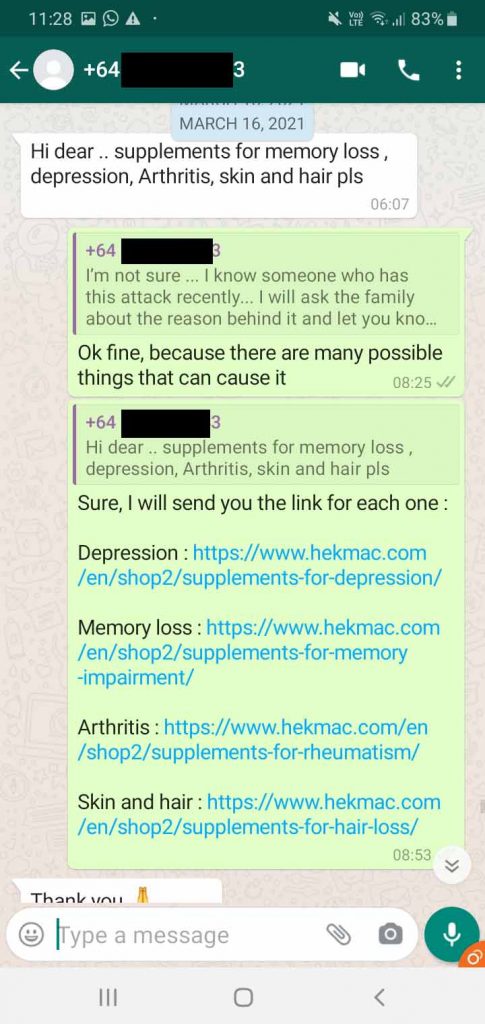 This New Zealand father is one of many cases that overcame Shaking palsy. Thanks to God first, and to our organic supplements.
Good for him for finding the right path.. For he did not accept the idea of coping with PD, and was finally able to overcome its irritating, inconvenient symptoms.
We wish him and all patients constant health and well-being.
Note:
The featured image is for illustrative purposes only.
Note:
The result may vary from one person to another.