Lamia Recovered from Breast Cancer after Taking Hekma Center Herbal Supplements
The following is Lamia's story from Algeria who defeated breast cancer. It was her sister's husband, who contacted us on December 25, 2015, asking for a treatment for Lamia who has breast cancer.
The sister's husband – Mr. Ahmad, explained to our staffing team at Hekma Center, the health condition of his sister in law. He said that Lamia was diagnosed with breast cancer and that she refused to undergo mastectomy. Also that, her treating doctor suggested chemotherapy in order to make the tumor shrink so that they can remove it.
Below is a screenshot of Mr. Ahmad's message:

Mr. Ahmad then sent all the required medical documents that belonged to Lamia and our staffing team passed them through to Prof. Younis. Based on the received documents Prof. Younis suggested the herbal supplements that would be the most useful in her condition. We shipped the package to Lamia on January 12, 2016.
Herbal Supplements for Breast Cancer
Hekma Center herbal supplements for breast cancer are pure organic therefore, do not cause any adverse side effects. The supplements are suitable for most patients who have breast cancer, spread and non-spread.
A few days after she received the supplements package, Lamia contacted us in order to give her guidelines on how to take the supplements and adhere to the instructions and diet regime that came in the package.
The Shocking News
Lamia's doctor insisted on mastectomy, which shocked Lamia especially because she had high hopes, for she was feeling better after using our natural supplements for breast cancer.
This shocking news gave her Bell's palsy – a trauma to the seventh cranial nerve in which the muscles on one side of the face become weak or paralyzed.
However, Ahmad said that our supplements helped her get over it.
Below is a screenshot of Mr. Ahmad's Message:

We at Hekma Center replied immediately to their message encouraging them to stay positive because Lamia does not need to undergo mastectomy as her doctor suggested. We ensured her that she is on the right path and she is getting better.
Below is a screenshot of our message to the patient: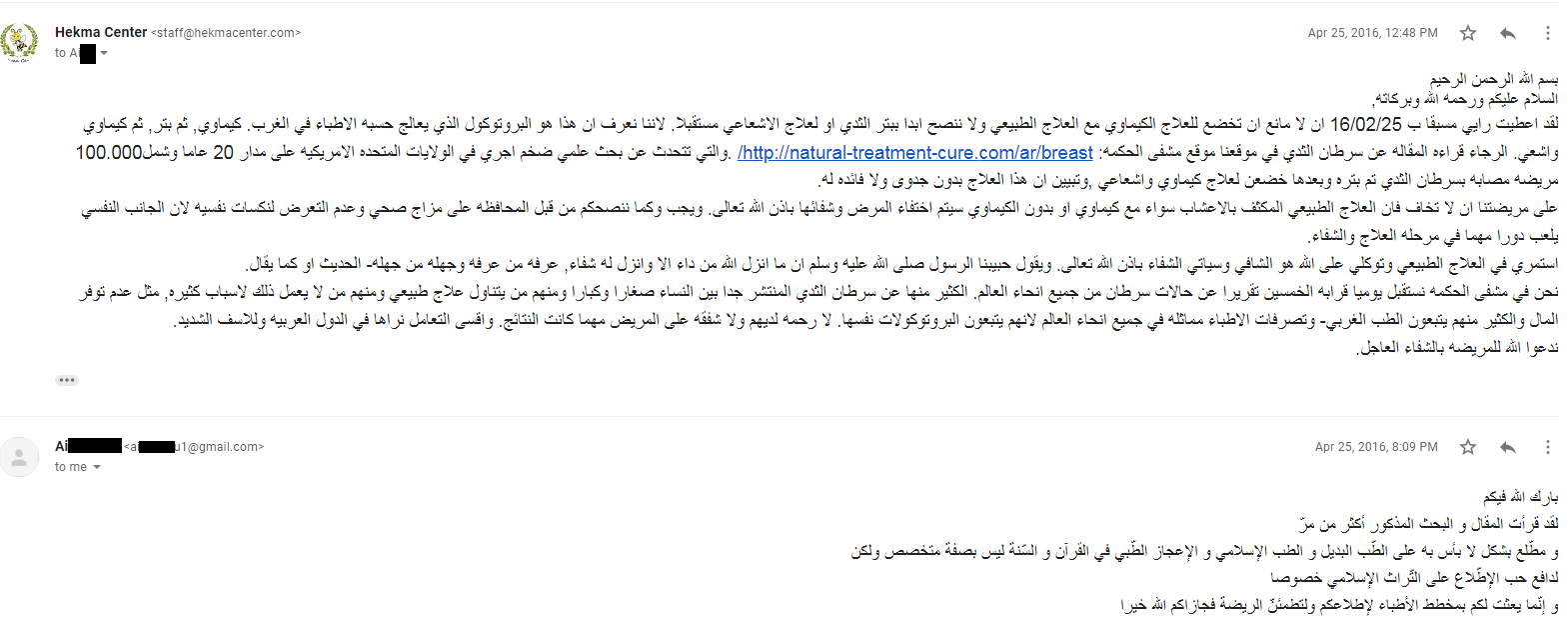 Noticeable Improvement in Lamia's Condition
On May 4, 2016, a few days after Lamia started with her second course of supplements, we contacted Mr. Ahmad to check on her.
Mr.Ahmad happily replied that Lamia's condition is constantly improving due to the herbal supplements and that she healed form Bell's palsy by 80%. He also added that the tumor already shrunk and that Lamia feels less stiffness in her breast.
Below is a screenshot of Ahmad's message:

Info:
It is worth mentioning that Lamia took our herbal supplements for breast cancer in conjunction with chemotherapy even though we did not recommend it. Thus, our package helped reduce the side effects of chemo and increased her immunity.
More Improvement in Lamia's Condition
Lamia sent a new MRI scan results on May 21, 2016, which showed great improvement in her condition and regression of the disease in her left breast especially in the lymph nodes.
This report indicates that there is no need for Lamia to undergo mastectomy or even radiotherapy.
Lamia's ambition to defeat cancer is clearly manifested in the report below.
See attached copy of the medical report: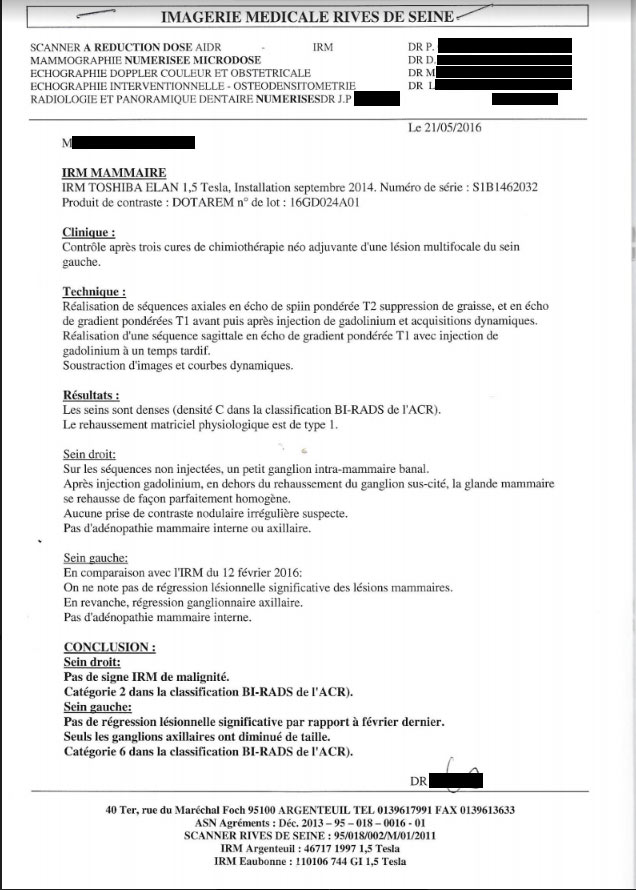 Recovery from Breast Cancer- Lamia Defeated Cancer at the End
On October 19, 2016, Mr. Ahmad contacted us again. He informed us that Lamia finally defeated cancer and that her body is completely clean from any cancerous tumors.
Below is a screenshot of his message:

We congratulated them for the speedy recovery and advised Lamia to continue with the wellness package for cancer.
Mr. Ahmad thanked us his own way and sent the following picture: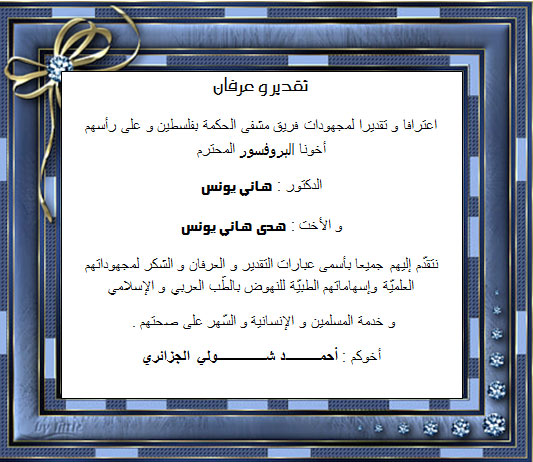 Note:
The featured image of this page is for illustrative purposes only.
Note:
Results may vary from person to person.