Ahmad's Inspiring Story of his Battle with Brain Cancer
Ahmad has cured from brain cancer after experiencing an unforgetable journey with the disease. Nobody expected that a brain tumor will sneak to the life of Ahmad, a young German man, and put him through unimaginable challenges that he must confront.
He Suffered but Now Ahmad is Totally Recovered from Brain Cancer
Ahmad's father contacted us and explained how the doctors have diagnosed his son as a patient of brain cancer and asked for a treatment.
In the e-mail we received, Ahmad's father wrote to us: "On September, 2017 my son had a flu accompanied with headache. We thought that it is probably because of the cold weather. We went to see a doctor and he claimed that Ahmad has a flu that will end in a few days. Therefore, he prescribed bills for the headache. Days passed by and nothing has changed. Ahmad was still having flu symptoms and headache. So, he visited the doctor again, and for the second time the doctor said that he has a common cold.
My son's condition did not end and on September 24, 2017, he started vomiting so we went to the hospital. Sadly, the doctors at the hospital diagnosed him with brain cancer. So, he decided that he must undergo a surgery to remove the rumor. The surgery was on September 27, 2017, three days after the diagnosis. Unexpectedly, the results were promising as no symptoms have appeard after the surgery.
In the hospital, Ahmad had to do an MRI scan to make sure that the tumor was removed completely. Ahmad is now cured from brain cancer. Even though the results came out negative, the doctors still suspected the existence of metastasis.
See below, the copy of the e-mail and some medical reports Ahmad's father sent to us. The letter shows how Ahmad's parents were so concerned about their child's condition, hoping to find an alternative treatment for brain cancer.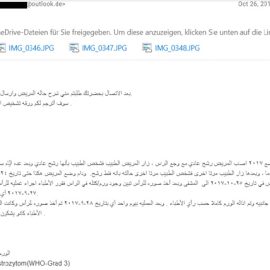 Attached below, is a screenshot of the medical documents prior taking our supplements:
Our Response to Ahmad's Father
Our staff in Hekma Center passed Ahmad's medical documents to Prof. Younis.
Prof. Hani Younis calmed the parents and told them that with God's wهll anything is possible. He told them that we have herbal supplements that can help with such condition but Ahmad has to adhere to the wellness program and the given instructions, word by word, in order to get the desirable results.
Ahmad started with the supplements on November 1, 2017. Ahmad's parents were so assiduous to follow the instructions given with the supplement package. After the seventh course of supplements for brain cancer, Ahmad's father shared with us his joy that his son has recovered from brain cancer and sent new medical documents for the recent results.
He wrote:
"Greetings,
Ahmad undergoes MRI scan, periodically, every 3 months. Thank God, there is no evidence of cancer so far. Yet, because of the chemotherapy, that he took, he is suffering now from blood disorder. Thus, the doctor prescribed some anti-inflammatory pills. The pills cause Ahmad colic and severe stomach pain as well as loss of appetite. Please pass my message through to Prof. Hani so we can discuss a suitable program in details.
Thank you"
Attached below, is a copy of his email:
Our crew, in Hrkma Center cheered to the wonderful news, and suggested that Ahmad should continue with diluted doses to make sure the brain tumor never comes back.
Note:
The wellness package consists of a diluted dose of the supplement package that the patient should purchase once every 3 months.
Below, is a copy of the final documents that show Ahmed's full recovery from brain cancer after using our natural supplements for brain tumor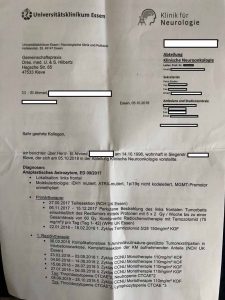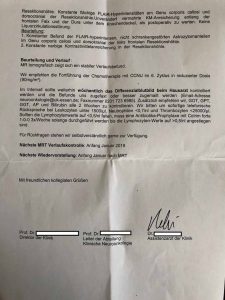 Note:
The featured image of this page is for illustrative purposes only.
Note:
Results may vary from person to person.