The Story of Sarah Who Had ADHD
This is a story of Sarah a 14 years old, who according to a didactic diagnosis, suffered from ADHD. She had a serious difficulty in delaying her reactions. Thus, her behavior was hasty and immature and she could not weigh the consequences of her actions.
Therefore, Sarah's father contacted us for the first time on April 24, 2018. In his e-mail, he seemed very concerned, and he wrote a detailed description of his daughter's behavior and condition. Furthermore, the father explained how Sarah suffered from hyperactivity, memory disorders, and difficulty in concentrating, learning and sleeping.
Down below is a translation of the letter:
"Greetings,
My 14 years old daughter was born with ADHD. She is now in the 8nd grade (in the learning disability class).
My daughter has:
trouble concentrating. 2. Memory impairment. 3. Difficulty in study skills especially in reading even though, she is fairly good in writing.
She is in good health and doesn't suffer from any diseases."
Attached below, is a screenshot of his e-mail to us.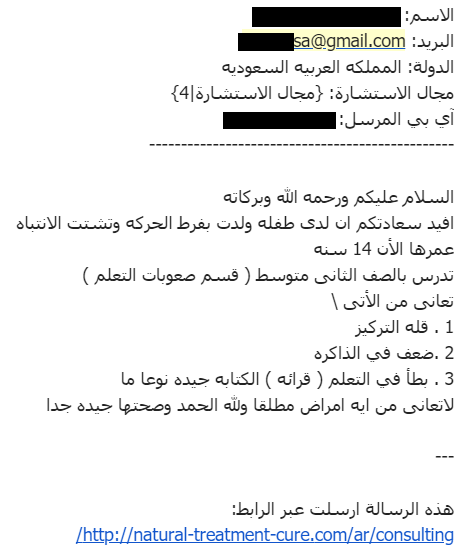 Our crew at Hekma Center asked the father to fill in a specific questionnaire and to send some other needed documents so we can perfectly study her condition with attention deficit hyperactivity disorder.
Indeed, the files provided us with sufficient information about Sarah's situation.
Attached below, is a screenshot of the filled in questionnaire: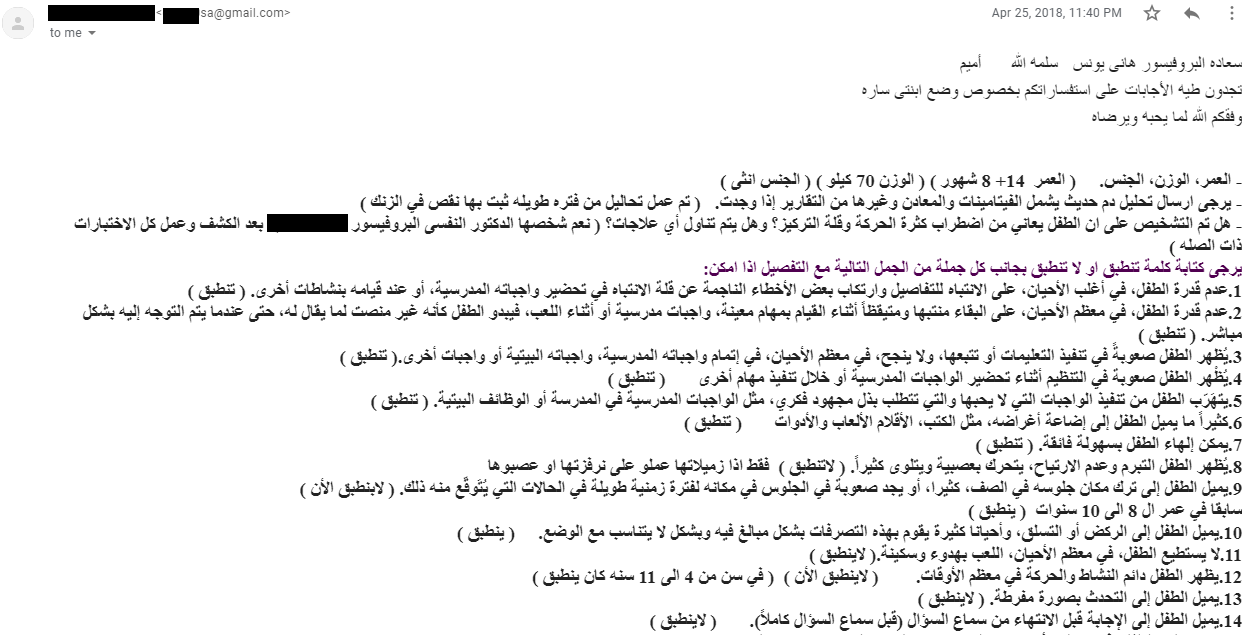 Then, on May 4, 2018, Sarah's Father received the first supplement package for ADHD and his daughter started with it immediately.
Attached below, is a screenshot of the e-mail:

Sara's Rapid Response to the Herbal Supplements
Sarah's parents noticed a rapid improvement in Sara's condition within the first two weeks of wellness program for attention deficit hyperactivity disorder. They were so happy and decided to share the news with us. So, we were delighted to be informed with such good news.
Attached below, is a screenshot of the father's letter and a translation:

"Dear Prof. Younis,
I hope you, your family and your crew are in a good health.
It is been only two weeks after my daughter has started with your supplements, I can see that my daughter is significantly less impulsive and sleeps well at night. However, her mother is concerned whether the huge amount of capsules that Sarah has to take, would affects her kidney efficiency.
Thanks much."
We at Hekma Center were not surprised of the results because we decide very carefully upon what supplements are best suitable for each individual condition. So, we wrote in response, that the mother can rest assured that our supplements for attention deficit hyperactivity disorder is completely safe. It consists of pure organic herbs; therefore, it does not have any side effects to it, and can be considered as a food supplement.
Note:
The featured image of this page is for illustrative purposes only.
Note:
Results may vary from person to person.