A thank You Letter from S.N., a Palestinian Lady Who Suffered from Multiple Sclerosis (MS) for 15 Years
S.N. (real name is kept anonymous), a patient with MS. She took Hekma Center supplements for MS and today she is fully recovered. May Allah (SWT) grant her with forever health and well-being.
Here is a translation of her letter:
"My suffering with multiple sclerosis (MS) and method of treatment, may it be found helpful to others In Shaa Allah.
My first sign of MS (relapse) occurred when I was in my 20s. One day I had a double vision, so I did some tests and found out that I have MS. Back then, I did not take any medications and the symptoms went away on their own. This kind of disease has periods of remission in which the patient does not experience any symptoms.
Reoccurence of Symptoms
However, 15 years later, I had an immune system disorder which caused the recurrence of symptoms again. I had symptoms like numbness and imbalance. The doctors insisted on giving me injections, so I took injections for a month but did not feel any improvement, on the contrary my symptoms even worsened. I stayed like this until I finally met with Prof. Hani Younis who explained to me all about my illness and told me how to cope with it, so I decided to ditched the conventional medicine (injection in the muscles) because it had adverse effects on my health and was determined to try the natural supplements from Hekma Center.
I used to suffer from blurred vision and hemiplegia , but after I took the natural supplements that prof. Younis suggested, I thank God day for my recovery.
I also suffered from hair loss, so I took supplements for that as well and my hair stopped fallen of. Ever since then, every time I have a disease or a disorder, I immediately return to prof. Hani Younis for advice.
Here I am today sending you this message with my own hand writing even though I used to have weakness and paralysis. I thank God for my recovery and wish Prof. Hani Younis more health and well-being and may Allah (SWT) grant him with more knowledge to help more people.
Down below is a photo copy of her letter to us: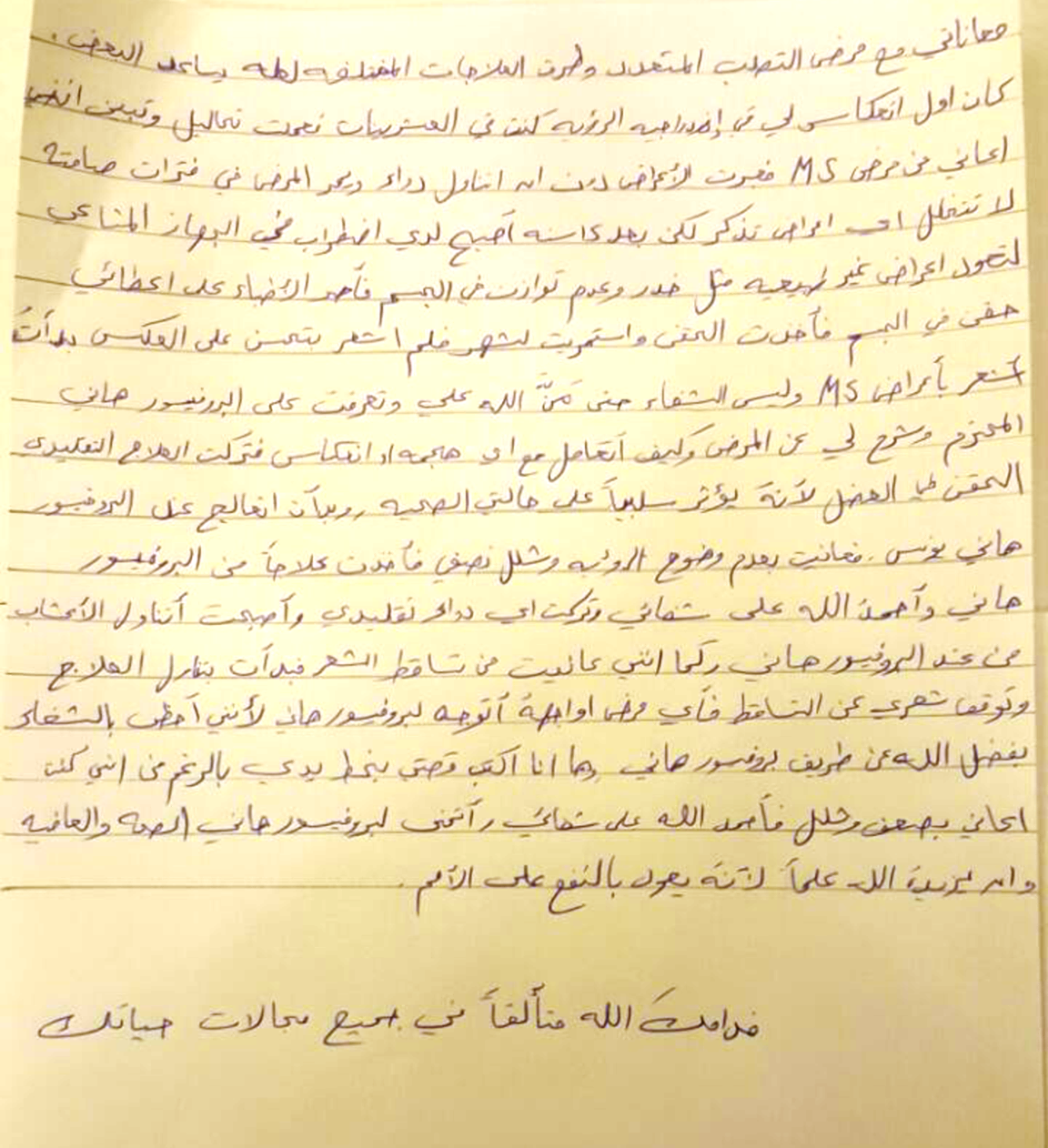 Note:
The featured image of this page is for illustrative purposes only.
Note:
Results may vary from person to person.